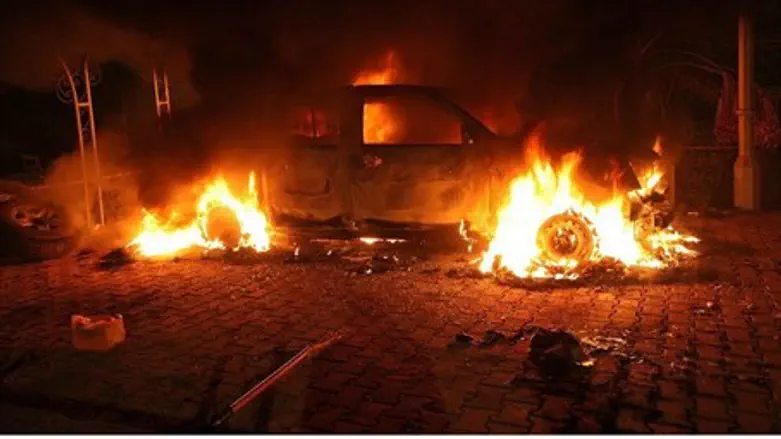 U.S. consulate in Benghazi one year ago
AFP/File
A car bomb exploded early Wednesday morning in Benghazi on the one year anniversary of the U.S. Consulate attack, and twelve years after the Twin Towers in New York were destroyed.
The bomb damaged Libya's Foreign Ministry building and the Central Bank of Libya this morning at about 7 a.m. Benghazi residents say that if the explosion took place just one hour later, there would have likely been casualties. Some bystanders were injured by shards of glass from windows. 
The explosion was very powerful, causing material damage and destroying the the vehicle used for the bombing which contained a large quantity of explosives.
The explosion in Benghazi is a reminder of the attack one year ago on September 11, 2012 on the U.S. Consulate which took the lives of four Americans, including U.S. Ambassador Christopher Stevens. 
The incident also occured on the  anniversary of the attack on the World Trade Center in New York and the Pentagon. 
U.S. officials say that some U.S. Marines have been stationed near Libya, ready to deploy, in the event of another attack. Other U.S. forces are helping boost security at various embassies in the region, since the period around September 11 is seen as a time of greater threat to U.S. interests.