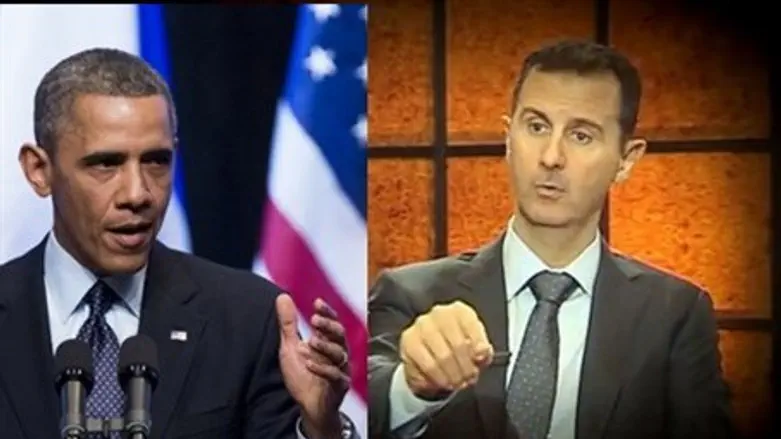 Pres. Obama and Pres. Assad
Flash90/AFP
Radical Egyptian cleric Yusuf al-Qaradawi, the spiritual leader of the Muslim Brotherhood movement, has expressed support for an American military strike in Syria.
The reason for Qaradawi's support for the strike is that "the Muslims cannot do it." The remarks were made during a Friday sermon delivered by Qaradawi and which aired on Qatar TV on September 6, 2013. The sermon was translated by the Middle East Media Research Institute (MEMRI).
"If only we could be the ones to retaliate against those people [the Syrian regime]. I wish there were an Islamic power capable of punishing these people. If only there was an Islamic power capable of drawing the line for the oppressors, and imposing upon them the punishment they deserve," Qaradawi said during the sermon.
"We do not have such power, however, so if they are punished by others, it is better than nothing. Allah pits the oppressors one against the other. The ancients used to say: 'Oh Allah, keep the oppressors busy with one another, and let us emerge from among them intact.' We do not pity those people when they are attacked by whoever strikes them, because they deserve to be attacked, just like they attacked the Muslims," he added.
Qaradawi, a Sunni, endorses Palestinian Authority Arab suicide bombers and supports Hamas in its fight against Israel.
He recently slammed the Hezbollah terrorist group as the "party of Satan" that seeks to "sow discord" among Muslims, because of its support for Syrian President Bashar Al-Assad.
Qaradawi is banned from entering the United States, but one of his deputies, Sheikh Abdullah bin Bayyah, visited the White House in June.