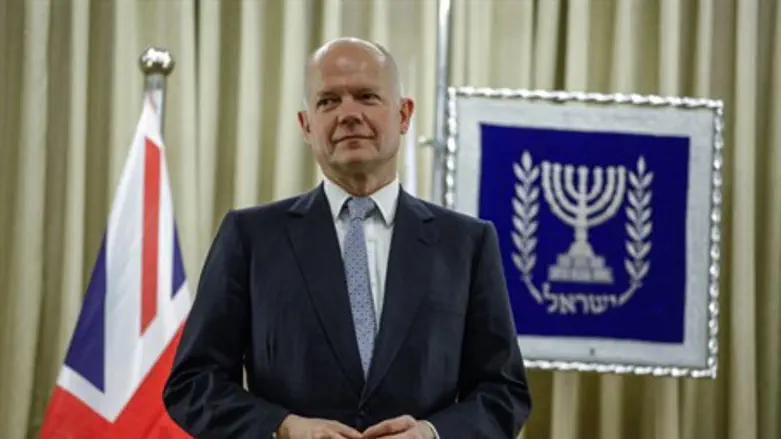 British Foreign Secretary William Hague in Je
Flash 90
After the British parliament last week voted against the UK's taking part in any military action to remove Bashar al-Assad from power, several British parliamentarians from both sides of the aisle said that they wanted parliament to reconsider its decision. The calls were led by former MPs Lord Howard, (Conservative), Lord Ashdown (Liberal Democrat), as well as former Foreign Secretary Sir Malcolm Rifkind.
Rifkind, currently chairman of Parliament's intelligence and security committee, said that the situation had "dramatically" changed since last week's vote, and that there was "more compelling evidence every day" that Assad had used chemical weapons to kill some 1,400 Syrians in a neighborhood of Damascus last month.
On Sunday, US Secretary of State John Kerry said that the government had definitive evidence that sarin gas was used in the chemical attack by Syrian government forces. Kerry said hair and blood samples from first responders who were helping victims in the Damascus neighborhood of Ghota al Sharkiya "have tested positive for signatures of sarin." He did not say how the administration had obtained the evidence, but expressed confidence that the case against Assad was "going to build."
Labour MPs, who had voted against the UK's participating in an attack on Assad's forces, also showed signs that they would be willing to discuss the issue again. Jim Murphy, the shadow defense secretary, said that it was now clear that Assad had indeed used chemical weapons. Former former Labour Cabinet minister Ben Bradshaw would also support a new vote, he suggested.
Foreign Secretary William Hague said that with the Parliament's decision, the only option for solving the Syrian crisis can only be resolved diplomaticallye said Sunday that he would support a new vote on the matter under certain circumstances, primarily a true willingness by the opposition Labour Party to discuss the issue objectively, and not oppose it simply because the government supported it.
Regardless, though, forceful international action of some kind was needed immediately, he said, because delay would just lead to a "bigger and more painful" confrontation down the line.