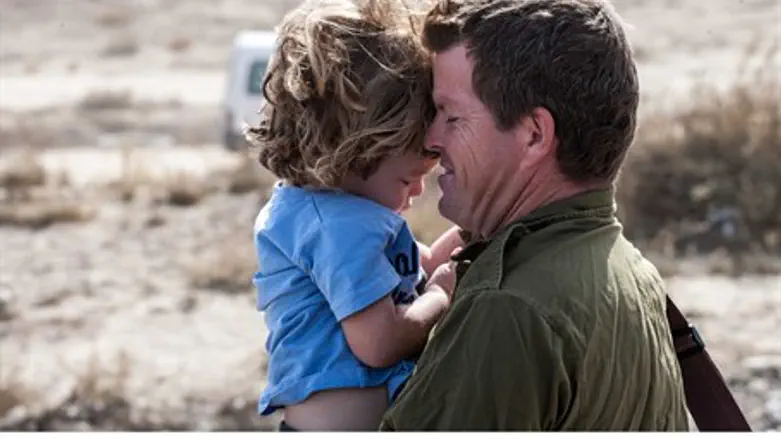 Illustration: IDF reservist arrives for duty
Flash 90
Israel's security cabinet Wednesday issued a limited call-up of reservists, in anticipation of an upcoming western military strike on Syria.
The decision is part of Israel's preparations for the possibility that the Syrian regime could choose to attack Israel in "retaliation" for intervention by the US and its allies, following threats to that effect by a number of Syrian officials.
Most recently, a senior official in the Syrian army warned the United States and its partners on Tuesday that waging a full-scale war on Syria would be reciprocated with an immediate attack on Tel Aviv.
"If Damascus comes under attack, Tel Aviv will be targeted too and a full-scale war against Syria will actually issue a license for attacking Israel," the Syrian army source told the Iranian Fars news agency.
"Rest assured that if Syria is attacked, Israel will also be set on fire and such an attack will, in turn, engage Syria's neighbors," he added.
The source also warned the U.S. and other Western states that if Syria grows weak, certain irresponsible groups will be formed which will endanger Israel's security.
"Therefore, weakening the central government in Damascus will actually start growing attacks on Israel and will create insecurity for that regime," he claimed.
"Thus, a U.S. attack on Syria will herald frequent strikes and attacks on Israel, not just by Damascus and its allies in retaliation, but by extremist groups who will find a ground for staging their aspirations," he concluded.
His warning came only days after a similar threat by Syria's Deputy Information Minister Halaf Al-Maftah.
In an interview with an Arabic-language radio station Al-Maftah claimed that Syria has "strategic weapons" that it would use in its attack on Israel. He did not specify what those weapons were.
The call-up is currently limited to reservists holding specific positions within the Home Front Command and Air Defense units. 
Additional air defense batteries have also been deployed to prepare for the eventuality that the Syrian regime will follow through on its commitment to attack Israel in revenge for any western military strikes against it.
A second Iron Dome anti-missile battery has been deployed in northern Israel, and a Patriot battery has been deployed in central Israel.
The IAF, meanwhile, has decided to raise the level of alertness of its Arrow 2 missile system as well. The Arrow 2 is designed to intercept ballistic missiles of the kind it is feared the Syrian regime and its various Iranian-sponsored proxies in the region may use..
A senior IDF officer said that Israel is carefully monitoring developments in Syria and that, whilst the likelihood of a Syrian strike on Israel remains "low," security forces were not leaving anything to chance.
Concerning the calling up of IDF reservists, he said that "we are talking about a few hundred air-force personnel to man the 'Iron Dome' (missile defense) system and for intelligence roles.
He added that the IDF Chief of Staff was in close contact with his American counterpart, and that although no definite date has been set for an operation, the "bottom line" was that the likelihood of a Syrian missile strike was slim.
Also Wednesday, IDF Spokesman Brig. Gen. Yoav Mordechai posted on his Facebook page that "It is important to make clear that the developments around the events in Syria... are being led by the U.S. with a widening coalition, which includes other countries in the Middle East.
"As is required, the IDF is examining, following and watching the developments, hour by hour. The Home Front Command knows its job well and is prepared to give any required solution for the population, and therefore there is no reason to change our daily routine," the spokesman said.
Earlier today, Prime Minister Binyamin Netanyahu convened the Diplomacy and Security Cabinet, in order to discuss the preparations for the expected US strike in Syria. The ministers heard intelligence briefings and were briefed on the security establishment's preparations for an attack on al-Assad's regime.
US President Barack Obama spoke with British Prime Minister David Cameron Wednesday morning and coordinated positions regarding an attack in Syria. The leaders agreed that the Syrian regime was behind the chemical weapons attack in Damascus last week.
Meanwhile, Israeli politicians are urging the public to remain calm.
"We are getting ready and are prepared, but there is no panic," Defense Minister Moshe Ya'alon said Wednesday while speaking at a Tel Aviv economic conference.
"The Syrians have crossed a red line set by the Americans. We are not dealing with this issue, the West and the Unites States are," he added.
Prime Minister Netanyahu has also urged people to continue with their normal routines. In a statement relayed by his media advisor, the PM said: 
"Pursuant to the security consultation that was held today, there is no reason to change daily routines."
"At the same time, we are prepared for any scenario. The IDF is ready to defend against any threat and to respond strongly against any attempt to harm Israeli citizens."