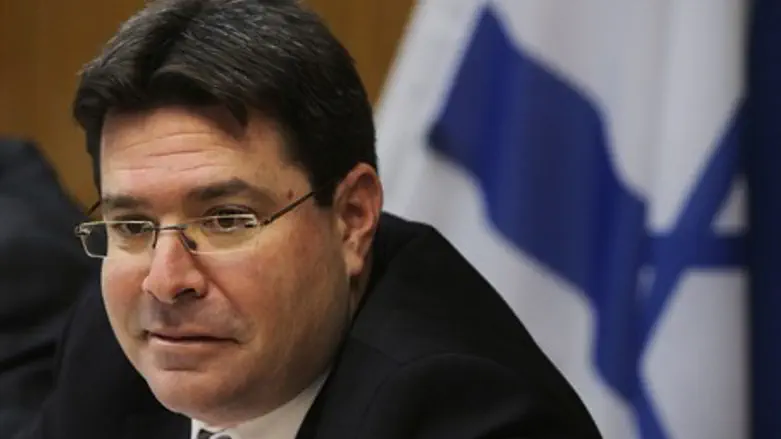 MK Ofir Akunis
Flash 90
Deputy Minister Ofir Akunis (Likud) said on Monday that he was always against a Palestinian state and will always be against one.
Akunis spoke to Arutz Sheva a day after he attended the dedication ceremony for a new neighborhood, Leshem, in the Shomron community of Aley Zahav.
Asked if the continued Jewish construction might anger the world, which has been pressuring Israel to renew peace talks with the Palestinian Authority, Akunis said, "The settlement enterprise will not be determined by one foreign minister of one country or another. Everyone in the world should know that we build and will continue to build in Judea and Samaria. The decision to build in Judea, Samaria, the Golan, the Negev or Galilee does not depend on one foreign ministry or another."
"We have to listen to the world's positions but continue to build because that is what is right for us," he added. "There are negotiations with the Palestinians and I read what [PA Chairman Mahmoud] Abbas said about 'Palestine' being free of Jews. These are not statements of someone who wants peace. They want to be in our place and not besides us. I have not heard foreign ministries around the world condemning this racist statement by Abbas, which is very similar to the racist remarks uttered against Jews in Europe in the 1930s. Such a statement was not condemned anywhere in the world, but when we build communities we are condemned by the world."
Construction in Judea and Samaria, stated Akunis, will continue despite the traditional condemnation against it that the world has sounded since after the Six Day War in 1967. "We hear these condemnations but we have to do what is right for Israeli interests and build in the entire land of Israel," he said.
As for the possibility that the negotiations will lead to the establishment of a Palestinian state, Akunis unequivocally stated, "If we come to this, I will oppose any outline that includes two states and, G-d forbid, would entail giving up territory. I will vote against it. This is my ideological and historical position."
He added, "I joined the Likud party based on its fundamental principles. This was in the 1990s, before Netanyahu became party chairman. I'm sorry for his position in favor of the two-state solution. I told him so moments after his Bar-Ilan speech and I say it consistently. Netanyahu is the Prime Minister and I know that he spends many hours working towards ensuring the country's security, but it is my duty to express my own position. These are the positions on which I grew up and on which I was educated. I have not changed them. I opposed a Palestinian state in the past and still oppose it. I say this primarily based on our right to this land as the Jewish people, a right which cannot be disputed, and to that I add the argument that a Palestinian state would hurt our security."
Akunis argued in favor of maintaining the status quo, saying, "The current situation is the best arrangement. This is a long-term interim arrangement that does not include the establishment of a Palestinian state, territorial concessions or evictions of communities."
He noted that today 98 percent of Palestinian Authority Arabs are under the control of the PA, which means that already have the autonomy to manage their socio-economic and religious affairs, but without being a state with all that entails.