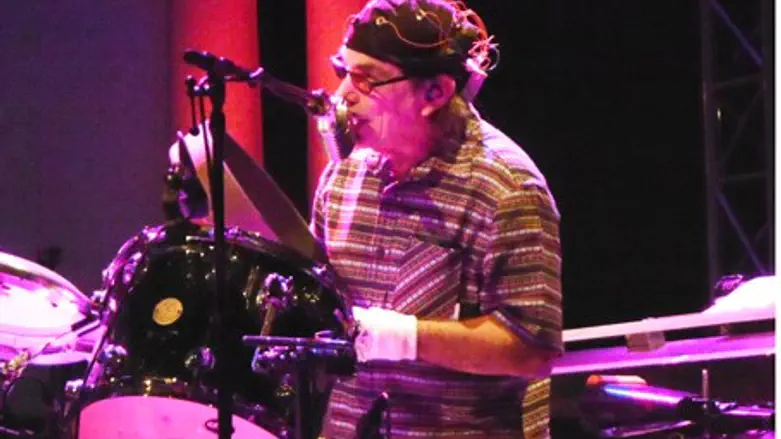 Mickey Hart live in Jerusalem.
Ben Bresky
Back in the days of the first Holy Temple, the Queen of Sheba visited King Solomon in Jerusalem. Today, Emahoy Tsegue-Mariam Gebrou, a relative of the Ethiopian leader Haile Selassie will perform at Tzikiyahu's Cave.
It's not exactly the same thing, but according to artistic director Itay Mautner, its echoes the quote in the Book of Isaiah, which says: "My House will be called a house of prayer for all nations.'
"There is a lot of sacred music going on in Jerusalem on a daily basis," says Mautner, speaking to Autz Sheva's Israel Beat Jewish Music Podcast about the festival.
To listen to the interview and music from the festival click here.
Mautner was born and raised in Jerusalem and is the artistic director of both the Sacred Music Festival and the Jerusalem Season of Culture, now in its third year. The Festival is just one of the events he and his team have put together over the summer. One such event will be the upcoming Piyut Festival which will focus on Jewish world music and Sephardic melodies.
Musicians from many different countries and belief systems are performing during the four day series of events. Emahoy Tsegue-Mariam Gebrou, although born in Ethiopia, has been living in Jerusalem for the past 30 years. Haile Sellasie, the leader of Ethiopia from 1930 to 1974 was also briefly a resident of the city during Ethiopia's conflict with Italy.
The 90-year-old nun will give a rare performance at the festival. "She studied classical piano playing in Switzerland and Italy," Mautner explains, "but when you really listen to it, you find it's based upon local traditional Ethiopian music. Many producers and film makers have approached her to cooperate but she always turned them down."
As Mautner puts it, "sacred music has been a part of the soundtrack to this wonderful city for so many years. We just need to pay attention and listen."
In addition to the performances, there will also be a night stroll, in which participants can view the many historic buildings in the Old City and its vicinity.
"They have a spiritual and religious meaning more than just being a venue for music shows," Mautner states.
One of those locations is Tzidkiyahu's Cave, "a national heritage site and has been around for about 2,400 years," according to the artistic director. 
Located next to the walls of the Old City near Shaar Shechem (Damascus Gate), in recent years it has been used as a concert venue. "The stones of the Temple were carved out from this cave," he elaborates.
Mautner hopes people will take the time to discover some of the hidden gems in Jerusalem in addition to enjoying the music. "We mapped out all the places around the festival area that have hosted ceremonies on a daily basis for hundreds and thousands of years. One can find a 24-hour musical journey only by staying right here in Jerusalem. You can listen to psychedelic cantorial music, then see some of John Zorn's 'Jewish Radical Culture', and the next day listen to Kirtan Indian devotional music," he says.
Another popular act will be Nikmat Hatractor, (Tractor's Revenge), an Israeli rock group that had a string of hits in the 1990s. They also have dabbled in Jewish music, releasing a rock version of Adon Hashlichot, a traditional song for the days before the High Holidays. They also have an avante garde, also metal version of the Passover seder song Echad Mi Yodea (Who Knows One) which is played every year on Israeli radio. At the festival they will perform works of Ibn Ezra, a Sephardic rabbi who lived in the 1100s.
The big name act is Mickey Hart, well known for his many albums of world music such as Planet Drum. Hart is probably best know for being one of the percussionists for the Grateful Dead. The American musical act sold out concerts around the world for 30 years. The 70-year-old Hart, born Hartman, is the only Jewish member of the now defunct group, and the first one to visit Israel.
Mautner told Arutz Sheva how Hart has also been investigating the role of drum beats as a method of therapy.
Hart's study of how the brain reacts to musical vibrations drum beats has been going on for years parallel to his music career.
"People may raise an eyebrow about the Grateful Dead, but for many it is sacred music too. It's all about kavana, the intention," Maunter says, "that's why you can have so many polarities in one festival."
Mautner expresses both a humble attitude and pride on sharing his hometown with the world.
"Jerusalem should open her doors. It's bigger and wiser then all the conflicts that we see so regularly," he states. "If we open our hearts, Jerusalem can go back to her role as being an example to everybody on how to respect each other without compromising who we are."
For full interview including excerpts from some of the musical acts download the podcast by clicking here.
The Jerusalem Sacred Music Festival is taking place from August 20th - August 23rd at the Tower of David, Tzidkiyahu's Cave, the YMCA, Hebrew University, and other locations. Among the aforementioned performers will be Amadou & Mariam from Mali, Salif Keita from Mali , Black Roots and the Nyabinghi Mystic Ceremony from the United Kingdom, Jai Uttal, Ras Sinai Project from Israel, Yair Dalal from Israel, the Vox Clamantis Choir from Estonia, the Tropos Byzantine Choir from Greece, the Tashi Lhupo Monks from Tibat and India, Alan Kushan and guests from Iran and the United States, Gil Ron Shama from Israel, and more.
Ben Bresky is a music journalist living in Jerusalem. He hosts The Israel Beat Jewish Music Podcast interviewing a wide range of Jewish and Israeli musicians from Carlebach to klezmer, from hassidic to trance. For mp3 archives click here. For Facebookclick here. For Twitter click here.