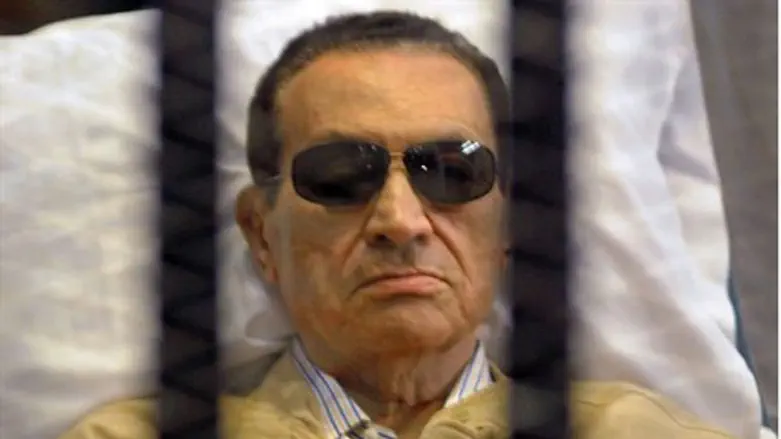 Mubarak sits inside a cage in a courtroom
AFP photo
An Egyptian court has ordered the release of the country's former president Hosni Mubarak.
Mubarak was ousted in a popular uprising in 2011, and was eventually tried and sentenced to life in jail for his role in the killing of protesters during the uprising against his rule. 
That ruling was overturned on appeal, and the 85 year-old Mubarak is now awaiting a retrial.
Contrary to earlier reports, the decision does not means Mubarak could leave prison today. The former president will remain in jail for 48 hours, pending an appeal by the prosecution.
Mubarak's continued detention following his successful appeal was of dubious legality, as the prosecution has postponed bringing Mubarak to a retrial as it attempts to gather evidence, and last winter an Egyptian court ruled that he could be released until that case was ready.
However, the court decided to keep Mubarak in prison after a new indictment was filed against him on corruption charges last April. Those charges have been dismissed, and as a result Mubarak is set to be released, a-Dib said.
Mubarak is being held in a prison south of Cairo, ironically in a facility in which members of the Muslim Brotherhood who were officials in the government of Mohammed Morsi – Mubarak's replacement – are also being held. Morsi himself is not being held at the facility, however.
His release is likely to further ratchet-up tensions between the interim, military-run government, and its Muslim Brotherhood opponents, who have been engaged in a violent struggle over the ouster of Mubarak's successor - the Brotherhood-backed Mohammed Morsi - by the army.
The court's decision will be seen as a result of pressure by the military, which previously backed Mubarak and which is now attempting to reassert its control over Egyptian politics.