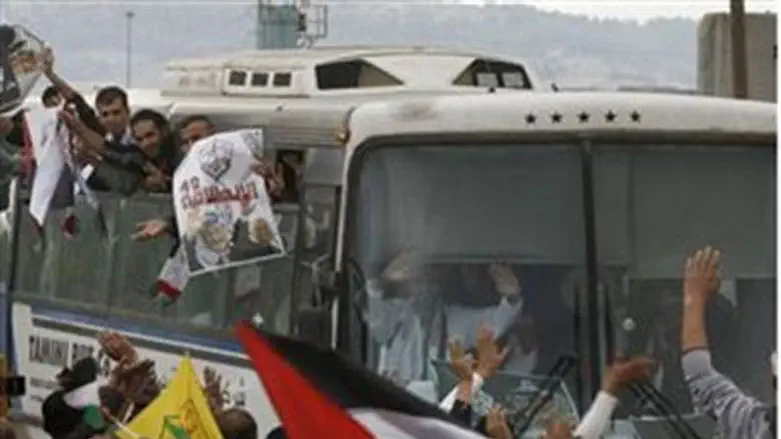 Terrorists are released (archive)
Israel news photo: Flash 90
Ministers on the committee that voted to release 26 Arab terrorists, who will be freed Tuesday, ignored recommendations from the Shin Bet, Israel's internal security service, Maariv reports.
The Shin Bet had provided a list of 40 terrorists from which the ministers were to choose the terrorists they wished to release. The list was compiled with the goal of avoiding freeing terrorists who would pose a particularly high threat to Israelis.
However, the committee led by Defense Minister Moshe Yaalon reportedly decided to replace some names on the list it was given by the Shin Bet with other terrorists' names, due to "Israel's wish to strengthen the status of Abu Mazen."
The committee's new names reflected prisoners' popularity with the "Arab street," whose release may improve popular opinion of the Palestinian Authority leadership.
Abu Mazen is the kunya (an Arabic honorific form) of Palestinian Authority Chairman Mahmoud Abbas. Abbas has faced challenges to his legitimacy from within the PA Arab community, primarily due to Hamas' victory in the last parliamentary elections, the Hamas takeover of Gaza that effectively put over 40 percent of PA Arabs under new leadership, and his own refusal to hold new elections despite his term in office having expired several years ago.
Israel is now holding renewed talks with Abbas toward the goal of the creation of a PA Arab state in Judea, Samaria and Gaza. Hamas has rejected the talks as illegitimate.
The impending terrorist release has been explained as a "good-will gesture" to Abbas in advance of talks. Abbas has vowed to free all Arab terrorists from Israeli prisons.
The prisoner release "gesture" has caused significant distress to families of those the terrorists murdered.