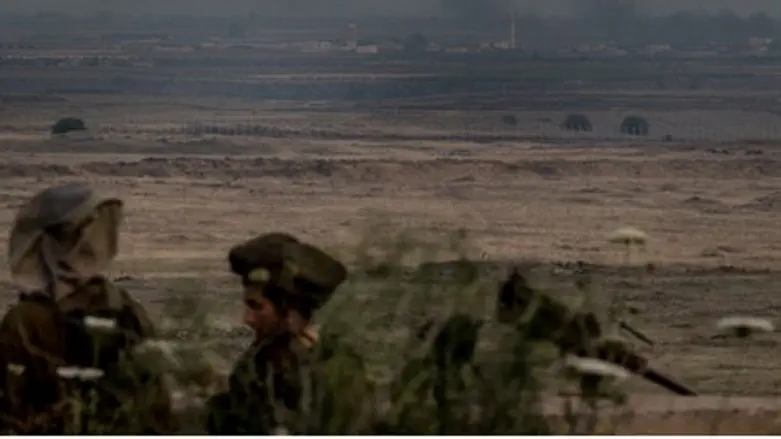 Soldiers in Golan Heights
Flash 90
Four IDF soldiers suffered light to moderate injuries Tuesday night, when an explosion occurred near the northern border, the IDF Spokesman's Unit said Wednesday morning.
The four soldiers wounded were located 400 meters inside Lebanese territory when the blast occurred, Lebanon's army said on Wednesday.
"An infantry patrol of the Israeli enemy penetrated 400 meters inside Lebanon in the Labouneh area at 00:24 local time," the army said in a statement.
"An explosion took place and the soldiers were wounded, with blood found at the scene. A military committee has opened an investigation in coordination with UNIFIL, " the United Nations Interim Force in Lebanon, it said.
The explosion might have been caused by a landmine, an army source told AFPon condition of anonymity.
The IDF Spokesman's Unit said that the explosion took place "in the course of activity that took place tonight on the northern border." The soldiers were taken to hospital for treatment.
"The IDF is inquiring into the event, it is following developments, and it will continue to act in order to maintain security along the northern border," the Spokesman's Unit added.
It was not clear from the statement whether the explosion took place along the border with Lebanon or along the border with Syria.
There has been mounting tension along both borders in recent months, as the Syrian civil war continues to escalate and the Shia Lebanese terror group,  Hizbullah is taking place, becomes increasingly involved.
Prime Minister Binyamin Netanyahu referred to the incident Wednesday, during a tour of IDF facilities in the south.
"There is something that the south and the north, and all of the arenas have in common: the IDF soldiers who protect us and our borders," he said, "This was the case tonight, as well. We will continue to act responsibly in order to protect the borders of Israel.
"I want to send wishes of a speedy recovery to the wounded – in my name, in the name of the Defense Minister, and in the name of all of you. We will continue to do our job, in order to protect our country."
On several occasions in the past weeks, Israel has reportedly bombed weapons that embattled Syrian strongman Bashar al-Assad tried to smuggle to Hizbullah for safekeeping. There is concern that Syria may try to retaliate for these strikes. Israel reportedly prefers not to admit carrying out the strikes, so as not to create pressure on Assad to strike back. However, U.S. President Barack Obama is allegedly leaking Israel's involvement in the strikes because he does not approve of them. 
There have been instances of mortar fire at Israel from the Syrian side of the border. It is not clear if these attacks are meant as a warning message from Assad, or simply stray fire.