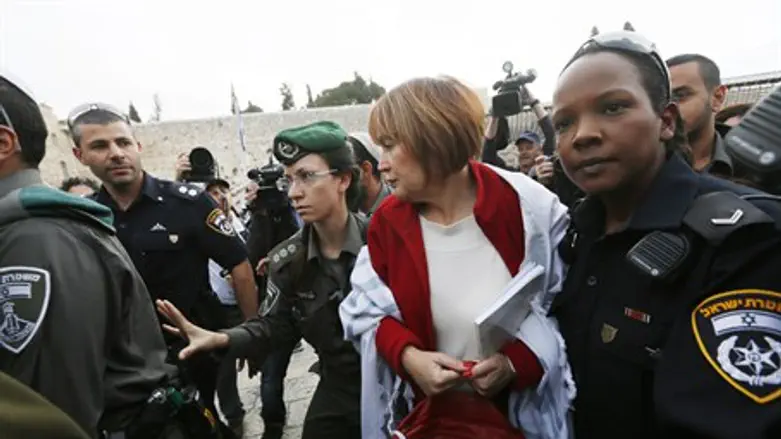 Women of the Wall
Flash 90
Jerusalem Police and officials at the Kotel (Western Wall) are afraid that this Friday could be a violent one at the Western Wall holy site.
Hundreds of thousands of Muslims are expected to visit the adjacent Temple Mount prayer space for the last prayers of the Ramadan holiday.
At the same time, the controversial Women of the Wall group will be holding its monthly prayers – an event that in the past has meant clashes as some counter-protesters resort to violence.
Women of the Wall holds prayer sessions once a month in which women use traditionally male prayer garments. The group wishes to change the rules of decorum at the Kotel, which currently include a ban on group prayers that violate orthodox Jewish tradition.
If their prayers draw counter-protesters this month, peaceful or not, police apparently fear that the increased Jewish presence could also increase the odds of Jewish-Muslim clashes.
Police are hoping to avoid violence this month by removing not only the extremists, but thousands of others who disagree with Women of the Wall's agenda. Officers, backed by Rabbi of the Kotel Rabbi Shmuel Rabinovich, have asked hareidi leaders to prevent young hareidi women from coming to the Kotel to pray this Friday.
In recent months thousands of young hareidi women have come to pray each month when the Women of the Wall do, in a non-violent show of disagreement with the group's demands.
Police have asked the Women of the Wall to help ensure calm as well by not wearing tefillin during their prayers this month. The women's use of tefillin, which are worn by Jewish men during daily prayers, is particularly controversial.
It is not clear at this point if either group is planning to heed the officers' request.
Women of the Wall members have announced that they will not agree to move their monthly prayer session to a different location.
The group's leaders said that last month, police set aside a protected area for their prayers that was in the women's prayer section at the Kotel, but did not touch the Kotel itself. They objected both to that and to the fact that, they say, police allowed protesters to whistle in a deliberate attempt to disrupt their services, and even to throw objects at worshipers.
"So we were prevented from holding prayers in accordance with halakha [Jewish law] for the first time in the last 24 years," claimed Women of the Wall head Anat Hoffman.