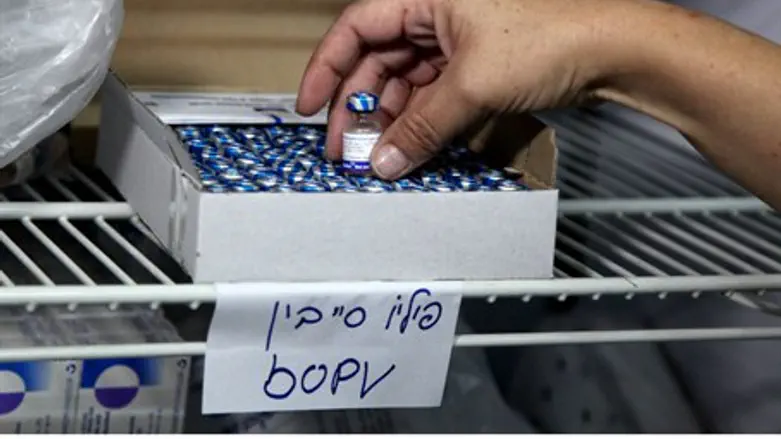 Polio vaccine
Flash90
At the opening of an inoculation center in southern Israel where children were to receive polio vaccines, Health Minister Yael German praised the Israeli public, saying that she was pleased that there had been no panic after the government announced the inoculation program.
The Health Ministry decided last week to embark on an emergency inoculation program to protect some 200,000 children from polio. Doctors have found hundreds of people carrying the disease in recent days, especially in the south. Inoculations are being administered at Tipat Halav (Mother and Child Wellness) clinics, and are being offered free.
German visited several of the clinics Monday morning, saying that she was pleased at how the operation was going. "I found the clinics ready to administer the shots in a pleasant and orderly manner. Staff arranged for extra seats and refreshments for those who would have to wait on a hot day for the inoculations. I take my hat off to the officials who organized this effort."
Israeli children have been inoculated against polio for generations, but the inoculation, whole preventing them from getting the disease, did not stop them from being carriers. As a result, children with weaker immune systems could be susceptible to the disease, even if they received inoculations. A new version of polio vaccine eliminates the disease from the body altogether, preventing it from being spread.
Polio has been found in recent months in several places in southern Israel.
In May, the virus was found in sewage from the Bedouin city of Rahat. Later, samples were found in sewage in Beersheva, Ashdod, and Tel Aviv. Experts said that the outbreak seemed to be centered on Rahat, and it may have spread from there.