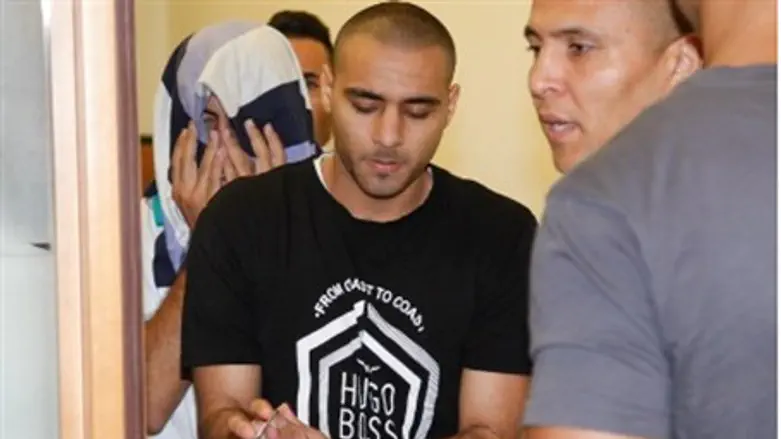 Defendant Hadi Musa
Israel news photo: Flash 90
The Central District of the State Attorney's Office pressed charges Monday at the Lod District Court against Amar Abu Daka, 26, of Tulkarm, and Hadi Musa, 21, of Danaba, for murder, breaking and entering into a residence, staying illegally in Israel and more.
The two men were part of a group that murdered a Jewish man, Yitzhak Elgabi, in his home at Avihayil on October 22, last year. Elgabi was 61.
According to the charges, the two men, who did not possess permits for staying in Israel, conspired with another man, whom the charge sheet identifies only by the Hebrew letter Aleph, to burglarize homes in Israel's coastal plain area. At 6:00 p.m. On the day of the murder, a man named Marwan Amer collected the two defendants in his car and took them to Avihayil, where they and Aleph began to walk between the houses, with burglary tools in their possession.
When they reached the Elgabi compound, Abu Daka broke the window in a housing unit, entered the unit and opened the door for Musa and Aleph. At that moment, Yitzhak Elgabi was making his way toward the unit from his home, in order to bring bread for eating at dinner. When he reached the unit, he surprised the defendants.
Elgabi grabbed Abu Daka's shirt collar and neck, in order to prevent him from escaping. Abu Daka responded by stabbing Elgabi in the chest with the screwdriver he held, while Abu Musa hit Elgabi on the head with another screwdriver.
Elgabi dropped to the floor and the defendants made their escape, together with Aleph. Elgabi died of blood loss some time afterward. Aleph called Marwan on his cellphone and begged him to come quickly and take them away.
Marwan took the three to a restaurant in Baka El Gharbiya, where Abu Daka asked Musa to bring him a bottle of water, for washing the blood off of the screwdriver that he had used for murdering Elgabi. After they had dined, the defendants and Aleph asked Marwan to take them to Hadera, where they wanted to carry out additional burglaries.