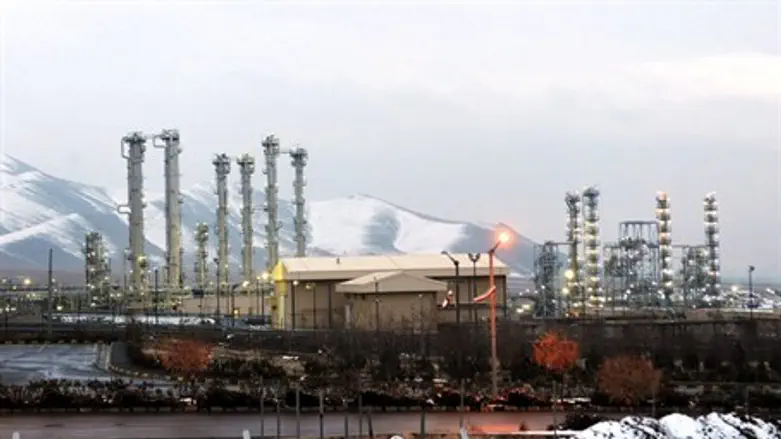 A general view of the water facility at Arak
AFP photo
Iran may be preparing to use a heavy water reactor for producing weapons-grade plutonium, according to U.S. and European officials cited in the Wall Street Journal. This is an alternative method for reaching a nuclear bomb, which joins its existing uranium enrichment project.
A heavy-water reactor is an easier target to hit than the underground facilities that house Iran's uranium-enrichment facilities, the newspaper notes.
In recent months, said the U.S. and European officials, the Iranian regime has made significant advances on the construction of a heavy water reactor in the northwestern city of Arak. The spent fuel from the reactor under construction can serve as the raw material for making two nuclear bombs a year, said U.S. and U.N. officials. India, Pakistan and North Korea have all built plutonium-based bombs.
Iran has notified the International Atomic Energy Agency that it plans to make the reactor operational by the second half of 2014 and could begin testing it later this year.
"The IAEA has been monitoring Arak since its construction began," wrote the Journal. "But following Iran's latest timeline, the site's importance has vastly shot up for Washington and Brussels, said U.S. and European officials. 'It really crept up on us,' said an official based at the IAEA's Vienna headquarters."
The paper quoted "a senior European official involved in the Iran diplomacy" as saying, "At this stage, our most pressing concern is dealing with the enrichment of uranium. But we are increasingly concerned about activity…at Arak."
Prime Minister Binyamin Netanyahu publicly warned Iran in July not to move forward with the commissioning of the Arak reactor.
"They're pursuing an alternate route of plutonium…to build a nuclear bomb," he said on CBS's "Face the Nation" on July 14. "They haven't yet reached it, but they're getting closer to it. And they have to be stopped."