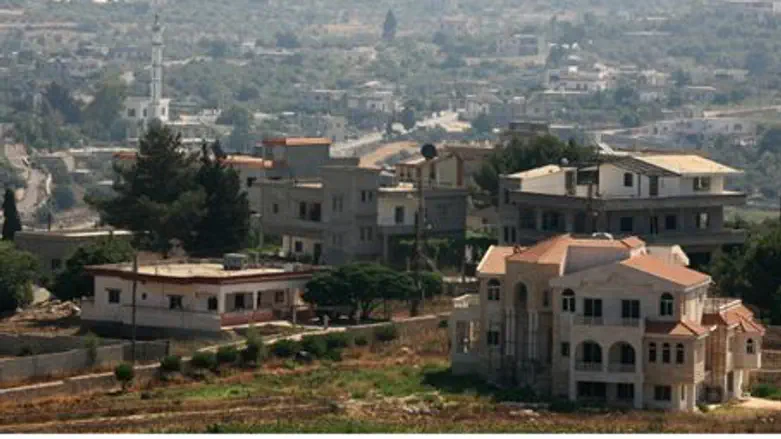 Village in southern Lebanon
Israel news photo: Flash 90
At least two rockets slammed into an area south of Beirut that houses the Defense Ministry and presidential palace on Thursday night, Lebanon's state-run news agency reported.
There were no casualties, according to the report.
It was not immediately clear who fired the rockets or from where. Eyewitnesses said one rocket fell only a few meters from an entrance to the presidential palace, according to the Associated Press.
Though nothing is yet confirmed, the incident may have something to do with the ongoing civil war in neighboring Syria which has spilled into Lebanon on more than one occasion.
Since the Syria civil war began more than two years ago, Syria-related tensions have soared in Lebanon, deepening sectarian rifts between Sunnis and Shiites.
Shiite Hizbullah openly supports the Assad regime and fights along his forces, while the Sunni-dominated opposition backs the rebels fighting it.
Several weeks ago, four members of Hizbullah were wounded in an ambush that targeted one of the group's convoys on an east Lebanon highway bordering Syria.
That incident came a week after after a car-bomb ripped through a Hizbullah stronghold in a suburb of the Lebanese capital Beirut, wounding dozens of people.
The Liwa'a 313 Brigade, a faction of the rebel Free Syrian Army (FSA), claimed responsibility for the bomb attack, lashing out a Lebanon for actively assisting Hizbullah. It claimed the bombing was a response to Hizbullah participation in the Syrian regime's ongoing offensive against the city of Homs - a strategically important position and a hub of rebel activity.