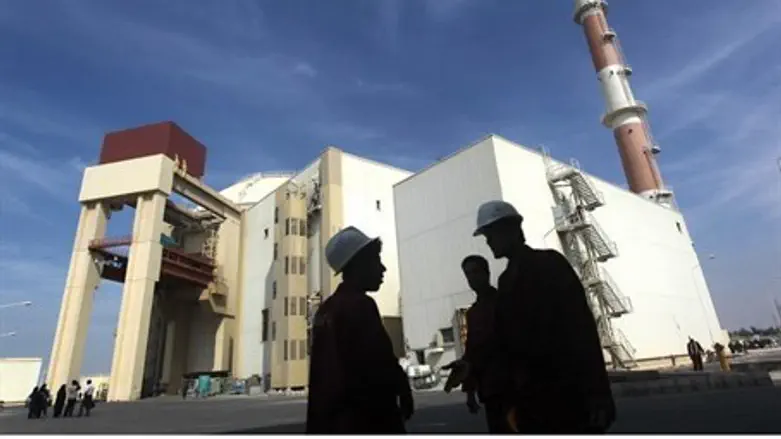 Bushehr nuclear power plant
AFP photo
The U.S. House on Wednesday passed its most stringent package of sanctions against Iran, Bloomberg reported.
This comes just four days before the new Iranian president, a cleric described as a "moderate", takes office.
The House voted with an overwhelming majority of 400-20 for a measure that would subject more goods and services to sanctions, in addition to authorizing the president to impose penalties on foreign entities that maintain commercial ties with Iran.
The bill, H.R. 850, intends to clamp down on resources that could be used by the Islamic republic to further its nuclear weapons capabilities, such as access to foreign-currency markets.
"New president or not, I am convinced that Iran's Supreme Leader intends to continue on this path," Representative Ed Royce, a California Republican and chairman of the House Foreign Affairs Committee, said on the House floor, according to Bloomberg. "That's unless the sanctions bite so bad the regime must relent or face upheaval. That's why this legislation dramatically steps up the pressure on Tehran."
President-elect Hassan Rouhani begins his term on August 4 and follows Mahmoud Ahmadinejad's eight years in office, during which Iran was hit with intensifying international sanctions over its nuclear program. President Barack Obama has said the U.S. will prevent Iran from acquiring nuclear weapons.
Rouhani was elected June 14 in a surprise victory after pledging to ease Iran's economic and political isolation.
Bloomberg reported that the timing of the House vote drew objections from some lawmakers who said that while they support sanctions, Rouhani should be given a chance to improve diplomatic relations with the U.S.
"Why aren't we at least curious to find out whether or not President Rouhani means that he wants to pursue this course of peace?" Minnesota Democrat Keith Ellison was quoted as having said on the House floor. "I say let's accept the olive branch extended by the Iranian people who selected a more moderate candidate."
The proposal for tougher sanctions drew bipartisan support from the chamber's leaders, with Speaker John Boehner, an Ohio Republican, and Democratic leader Nancy Pelosi of California coming to the floor to speak in favor of the measure.
"Iran is a global menace and this bill empowers the president to act decisively to address it," Boehner said, according to Bloomberg.
If enacted, the bill would build upon a December 2011 law that cuts off access to the U.S. banking system for foreign financial institutions that settle oil trades with Iran's central bank, unless their home countries get an exemption from the sanctions by significantly reducing purchases of Iranian oil.
Sanctions aimed at stopping Iran's nuclear program have hindered its ability to export crude oil. Iran was the second-biggest producer in the 12-member Organization of Petroleum Exporting Countries as recently as June 2012 and is now in sixth place.
Rouhani stressed soon after his election that Tehran would not consider halting the country's uranium enrichment activities entirely.
Iran has held several rounds of talks with six major powers -- the U.S., China, Russia, Britain, France and Germany, known collectively as the P5+1, about its nuclear program. Each round has ended without results.