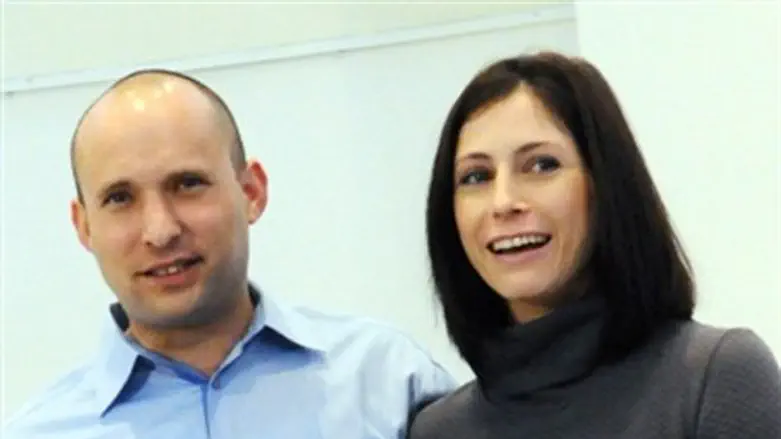 Naftali and Gilat Bennett
Israel news photo: Flash 90
It was about 5:00 p.m. Monday and the Knesset was set to debate no fewer than 4,700 reservations regarding the government's budget. Economics Minister Naftali Bennett took the opportunity to invite questions concerning business entrepreneurship, and questions by youths about to enlist to the IDF – since he was not about to get any sleep anyway.
He was probably surprised when one of the responders turned out to be his wife, Gilat. At about 6:30 p.m., she simply asked him – "When are you coming home?"
Bennett may have missed the question, or he may have called his wife and not thought of answering her on the Facebook page until later, because it took him five hours to respond. "My love, I will be stuck here until late with votes... tomorrow night. Good night, kisses to the dwarves," he wrote around midnight.
The reason for his wife's sudden pangs of longing may have been a positive domestic development. Also around midnight, Bennett put up a status that included a photograph of his blond haired baby son, standing next to a chair and beaming proudly.
"So, during the votes in the Knesset on 4,700 reservations to the budget, my little son David Emanuel started walking for the first time," explained Bennett. "I missed out, big time!!"