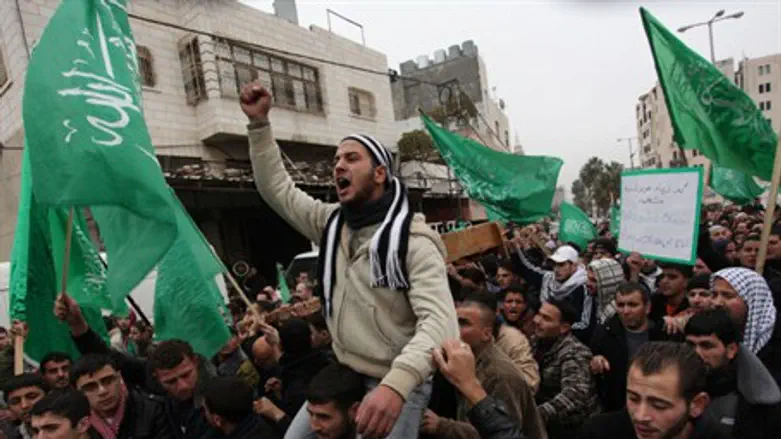 Hamas flags at terrorist's funeral
Flash 90
The Hamas terror group which rules Gaza has been holding meetings with representatives from Iran and Hizbullah after months of tension between the two sides, it was reported Sunday.
The Arabic language daily Asharq Al-Awsat reported that two Hamas representatives met last month with members of Hizbullah at the Iranian embassy in Beirut. The meeting was attended by senior Hamas official Moussa Abu Marzouk, the report said.
During the meeting, the sides discussed a number of issues, including Iranian aid to Hamas which has been reduced significantly in recent years.
Asharq al-Awsat quoted Hamas official Ahmed Yusuf as saying that the group was reassured that Tehran viewed it as a "strategic partner."
Yusuf, a senior advisor to Hamas's prime minister Ismail Haniyeh, told the newspaper that he anticipated that his group's ties with Iran would be restored soon.
Hamas admitted last month that it was paying a heavy price in lost aid over its assistance to the rebels fighting Bashar al-Assad in Syria.
Iran has made a meaningful cut in its aid to Hamas, which had previously reached amounts as large as 15 million Australian dollars per month, according to the British Daily Telegraph.
Iran is Syria's most important strategic prop and is involved in defending Assad's regime by sending Revolutionary Guard forces, Hizbullah fighters and Shiite Iraqi forces to fight the rebels.
In the first months of the Syrian uprising, Hamas's leaders expressed support in principle for the struggle of the Syrian people while also highlighting the importance of the movement's historical relationship with the Syrian regime.
However, as the rift deepened, there was shift in the terror group's stance as it began supporting the rebels over Assad. Reports then surfaced that Hamas was moving its headquarters from Damascus and strengthening itself in the Sinai and in Qatar.
Some reports claimed that the Damascus-based Hamas leadership left Syria after the Syrian government asked the Hamas leaders to leave. In November, Syrian security forces shut down all the offices belonging to Hamas in the country.
Some reports indicated that Hamas was even training the rebel Free Syrian Army in eastern Damascus, but the terror group vehemently denied any link to the rebels.
Hamas last month called on Hizbullah to withdraw from Syria and to keep its weapons aimed at Israel.