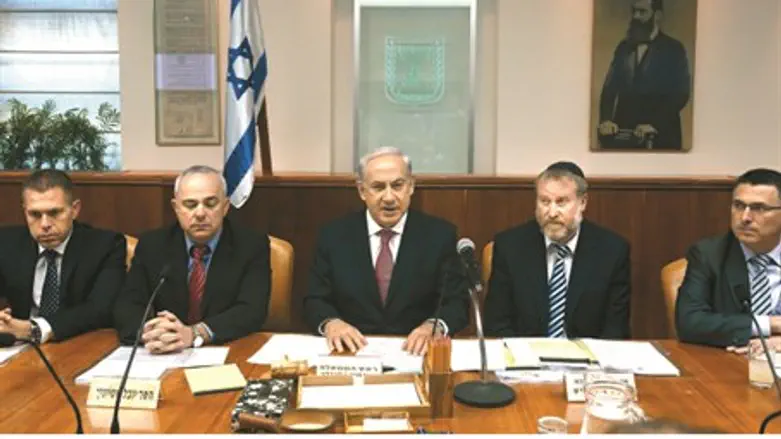 Cabinet meeting
Flash 90
MK Orit Struk (Bayit Yehudi) on Sunday demanded that Knesset Speaker MK Yuli Edelstein (Likud) investigate how and why a false answer regarding releasing terrorists was presented in the Knesset.
Four months ago, Struk, along with MK Nissim Zeev (Shas), submitted an item for the Knesset agenda on the release of terrorists. The two MKs demanded that it be clarified whether the government intends to release terrorists as a gesture to the Palestinian Authority in order to get it to restart peace talks.
At the time, said Struk, Deputy Minister Ofir Akunis (Likud) replied on behalf of Prime Minister Binyamin Netanyahu that "the Israeli decision is not to release terrorists. I hope there will not be pressure on this because the pressure will not help. The government's policy is not to release terrorists and will not be to release terrorists, not as part of such or other gesture."
On Sunday, Deputy Minister Akunis admitted on his Facebook page that he was misled before issuing the reply which stated that the government policy is not to release terrorists.
"I want to apologize to the bereaved families who understood from my answer to a parliamentary query three months ago that there was no such intention," wrote Akunis. "I am sorry from the bottom of my heart that professional bodies who were involved in the negotiations misled me."
Struk has now approached Edelstein and called on him to restore the dignity of the Knesset, as she put it, by investigating how and why Akunis was misled.
"On this sad day, when our national honor is humiliated as the Israeli government is to decide on the release of murderous terrorists in exchange for negotiations that will lead only to more blood and tears, I would like to draw your attention to the detrimental damage that was done to the dignity of the Knesset," she wrote.
She asked Edelstein to ensure that those who gave false answers will be punished and that from now on, only the truth will be told representatives from the government.
Struk added, "In light of this discovery I hope that the Knesset Speaker will do his best to make sure that the government provides answers true answers so that we can fulfill our role as emissaries of the public. If the government's answers are wrong and misleading, it severely damages the balance between authorities and also damages the members of the Knesset's ability to perform their duties which, among other things, include supervision of the government."