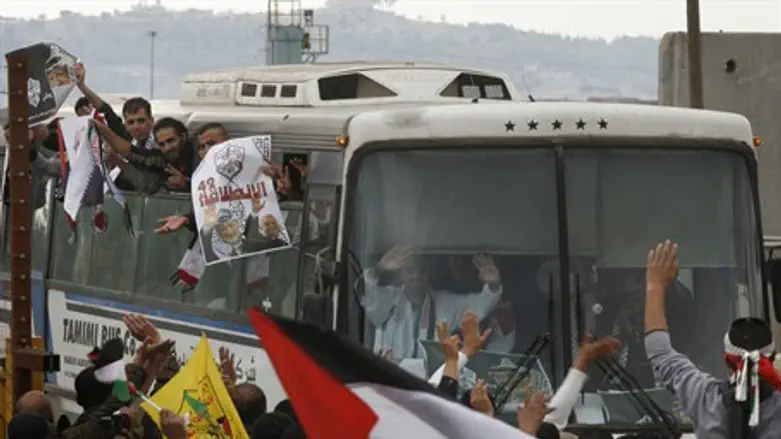 terrorist prisoner release, 2007
Flash 90
One of the terrorists who will be released as part of Israel's latest "gesture" to the Palestinian Authority told Channel 2 News two months ago that Arabs will continue to carry out violent uprisings (intifadas) against Israel.
"As long as there is no political horizon there will be a third, fourth, fifth and sixth intifada," declared the terrorist, Nasser Abu Srour, who was interviewed by Channel 2 News as part of a special project which showed the excellent treatment of terrorist prisoners by Israel.
Abu Srour, who murdered Shin Bet agent Chaim Nachmani in 1993, told the channel, ""I was a soldier in the army of Palestine. What do soldiers do? Fight."
He called on Palestinian Authority Arabs to continue to fight Israel until the land is "liberated", adding that as long as there is no political horizon the Arab uprisings will continue.
"Nothing will help. This issue is political and not economic as you might think," said Abu Srour. "As long as there is no political solution in sight, that is two states for two peoples, we will continue to die for this land."
On Sunday, the Israeli government voted in favor of Prime Minister Binyamin Netanyhau's plan to release 104 terrorist prisoners from jail, as a gesture that will accompany the reopening of peace talks.
The identities of the prisoners will be determined by a committee of ministers that will be headed by Netanyahu, and will include Livni, Minister of Public Security Yitzhak Aharonovich and Minister of Science Yaakov Perry, a former Shin Bet head.
The decision was passed with a majority of 13 ministers in favor, seven opponents and two who abstained.
Hours after the government approved the release of terrorists, the State Department announced that Middle East peace talks will restart in Washington on Monday.