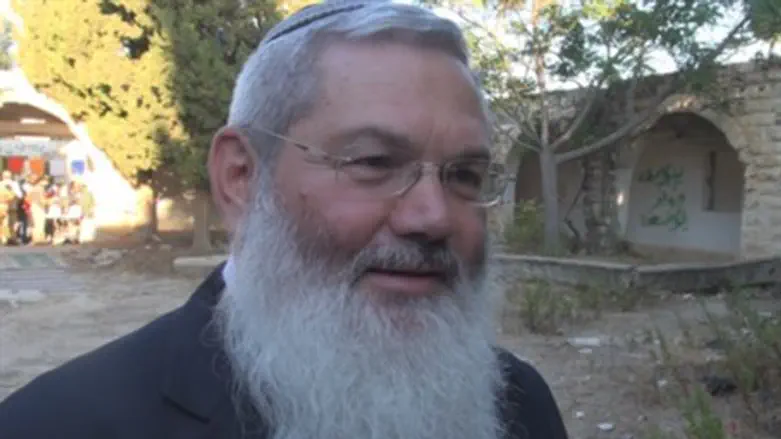 Dep. Min. Ben Dahan
Yoni Kempinski
Deputy Minister of Religions, Rabbi Eliyahu Ben Dahan (Bayit Yehudi), warned Sunday that the Bayit Yehudi will leave the government if it goes too far in concessions toward the Palestinian Authority (PA).
On a visit to Sa-Nur, in Samaria, he said that the decision to release terrorist prisoners is "a bad step, with no morality and no justice in it."
"It is unacceptable," he added, "that the United States, which puts pressure on Israel to release murderers, isn't willing to release Jonathan Pollard, who is certainly not a murderer and much less than that."
Rabbi Ben Dahan said that the Bayit Yehudi has decided, at this point, not to bolt the Coalition, but he emphasized: "We will not make the mistake that was made in the Expulsion – to stay on in the Coalition until the last minute, and then it was too late."
He was referring to the behavior of the National Religious Party, which did not leave Ariel Sharon's government coalition in time to stop the Disengagement plan from being executed in 2005. There is pressure on Bayit Yehudi to leave the current coalition because of Prime Minister Binyamin Netanyahu's decision to enter "peace talks" with the PA and because of the deeply unpopular decision to free terrorist murderers as a "gesture" toward the PA.
Ben Dahan was asked if the party was promised something by Netanyahu in return for its relative quiescence on the matter of the prisoner release. He smiled and said:"Even if something was promised, I will not say it here."
He added, though, that "you will see it soon," perhaps a hint that Netanyahu has agreed to allow construction in Judea and Samaria in order to soften the backlash from his right-wing coalition partners, as has been speculated.
Sa-Nur was one of the north Samaria communities that was torn down in the 2005 "Disengagement," which also saw the expulsion of 9000 Jews from Gush Katif, in Gaza.