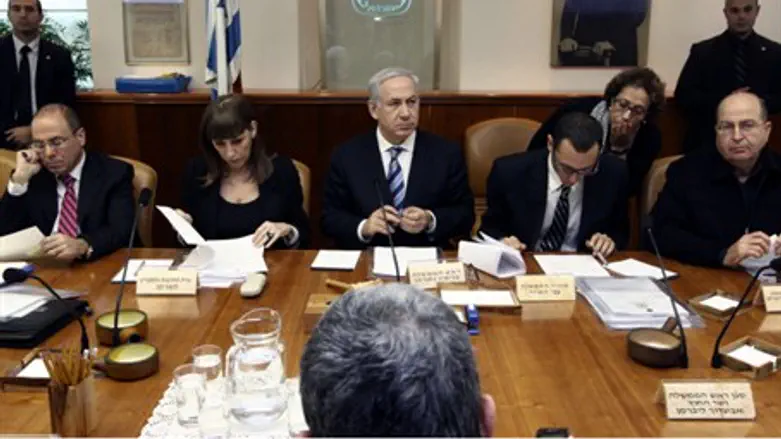 Cabinet meeting
Israel news photo: Flash 90
Reports Sunday morning of a close vote on a decision to free terrorists are nothing more than government spin, journalist Amit Segal of Channel 2 has said.
Segal wrote a "Guide to the New Political Spin" on his Facebook page on Sunday morning.
"Don't believe any emotional report of drama in the Cabinet meeting," he warned readers. "There has not yet been a decision that the Prime Minister wanted to pass that his ministers rejected."
"Don't get excited if the vote 'hinges on a single vote,'" he advised.
Prime Minister Binyamin Netanyahu himself is behind the supposed controversy within the government, he accused. Netanyahu has made a deal with the heads of parties in his coalition "to make it look hard," he said.
"Don't buy certain right-wing ministers' emotional statements about how releasing terrorists is a disaster. If they thought it was such a big disaster – let them have some dignity and step down," he suggested.
"Or maybe they think stepping down would be an even bigger disaster than freeing terrorists with blood on their hands," he added.
There were reports Sunday morning that Netanyahu had delayed the cabinet meeting by half an hour in order to give himself more time to promote the plan. Some ministers have said they will support the plan "with a heavy heart."
Minister of Industry, Labor and Economy Naftali Bennett has told reporters that he plans to oppose the release.
A recent poll shows that 85% of Israelis believe Israel should not free terrorist murderers as a precondition to talks, and over 78% said terrorists should not be freed even after talks begin.
The families of victims of terrorism, and their supporters, held a protest Sunday morning outside the Prime Minister's Office as the government prepared to vote on the release. Among those expected to be freed are several terrorists who murdered multiple people, including three terrorists who murdered Jewish mothers and their young children in firebomb attacks.