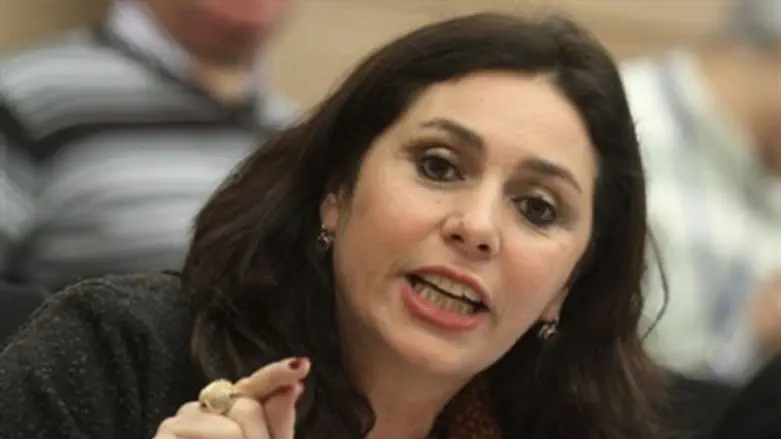 MK Miri Regev
Israel news photo: Flash 90
Members of Knesset expressed frustration Sunday that Israel is releasing terrorist killers in order to negotiate with the Palestinian Authority, following intervention from United States Secretary of State John Kerry.
The United States would never do what Israel is being asked to do, they accused.
"It isn't moral to release murderers. It isn't safe to release murderers… Has the United States ever released murderers as a concession to terrorism?" asked MK Motti Yogev (Bayit Yehudi).
"The United States hasn't even freed Jonathan Pollard, after he served his sentence and has been in prison for more than 28 years," he noted.
"Negotiations based on releasing killers have nothing to do with peace, or security, or morality, or truth," Yogev warned.
MK Miri Regev (Likud Beytenu) also brought up the stark contrast between Pollard's case and that of the terrorist murderers who are expected to be released as part of Prime Minister Binyamin Netanyahu's gesture to the PA.
"Pollard didn't commit murder, and he is still serving a harsh sentence in prison. Just as the Americans guard their honor, so we must guard our national honor, and respect the families of the victims," she argued.
"It's unthinkable that we release prisoners, murderers, terrorists who murdered innocent Israeli citizens, before we even sit down to talk," Regev declared.
"Everyone knows that Prime Minister Netanyahu already gave the Palestinians a free 'gesture' – a ten-month building freeze," she added. "Not to mention the mistaken process headed by Sharon – the Disengagement."