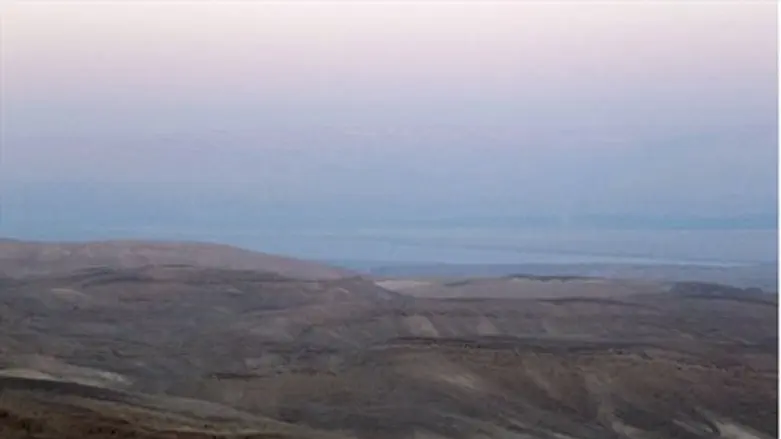 No pollution in the northern Negev skies near
Israel news photo: HLJ
President Shimon Peres called on Jews from Judea and Samaria last week to send a cohort with their strength and skills to settle the Negev.
Addressing an event to mark the 70th anniversary of Kibbutz Revivim – located deep in the Negev – Peres noted that at present, there are only 6,500 residents in the Ramat Hanegev region.
Even if half the Jews living in Judea and Samaria (Yehuda and Shomron) lived in the Negev, Peres said, the regions would look different. 
"There would be another 100,000 people here," Peres said. The president apparently had not considered the fact that nearly 400,000 Jews now live in Jewish communities in Judea and Samaria.
Jewish towns and cities in those regions are blossoming with boutique wineries, specialized industries and tourism-oriented activities for families. 
By contrast, In the Negev, which comprises some 60 percent of the land mass of Israel, there are few Jewish communities and bus routes are still relatively sparse. There are no real train lines through the area, with the exception of one branch line to Dimona that reaches to the main transporation hub in the central major city of Be'er Sheva – considered the "capital" of the south.  The other major city is the tourist capital of the south, Eilat, at the tip of the country, along the Red Sea coast.
The Negev has long been known for its beauty, quiet solitude and vast space, making it a perfect backdrop for artists, poets and thinkers who find the silence and vistas a perfect environment in which to create. The dry climate and clean air has long been an attraction for those with respiratory issues, particularly around the area of the Dead Sea, which also is known for its healing properties for people with skin diseases. 
There are also a number of smaller cities that have begun to create incubator industrial parks for hi-tech and other startups, such as Dimona, Yerucham, Omer and most recently, Arad. Nevertheless there are no train lines to any city or town other than Dimona and Be'er Sheva, and direct bus routes from those places to the other main cities of Tel Aviv and Jerusalem are infrequent and slow, at best -- making the south an expensive and difficult choice for highly skilled workers who need to commute to high paying jobs in corporate environments.