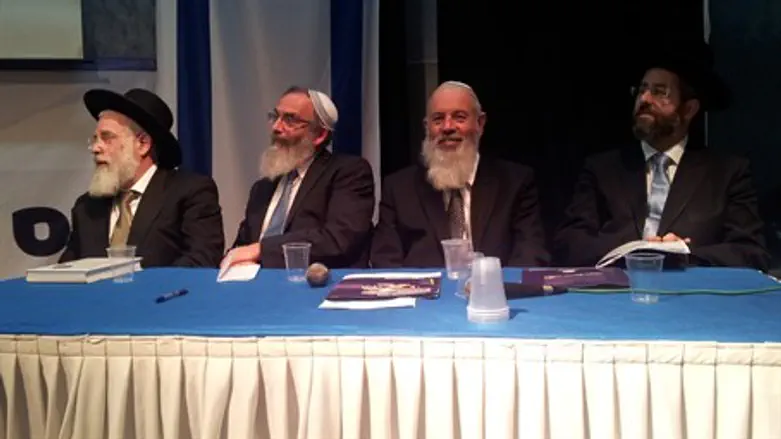 Chief Rabbi Candidates
Ramla Conference
On Wednesday afternoon a body of 150 rabbis and public figures will select the two new Chief Rabbis of Israel.
Seven candidates remain for the two positions. Rabbi Yaakov Shapira, Rabbi David Stav and Rabbi David Lau remain in the race for the position of Chief Ashkenazi Rabbi, while Rabbi Shmuel Eliyahu, Rabbi Yitzchak Yosef, Rabbi Ratzon Arusi, and Rabbi Tzion Boaron are competing for the post of Chief Sephardi Rabbi.
An eighth candidate, Rabbi Eliyahu Aberjil, submitted his decision to withdraw from the race earlier this week.
Rabbis Shapira, Stav and Eliyahu are identified with the religious-Zionist stream of Jewish thought, while Rabbis Lau, Yosef, Boaron and Arusi are affiliated with the hareidi-religious approach.
Rabbi Arusi spoke to Arutz Sheva and expressed hope that the 150 voters would have pure motives.
"I pray that the candidate who is best for the country, the nation and the Torah will be chosen," he said. "It's true that politics has power and influence, but there is power to truth… My feeling is that the time has come to select a candidate who is free of politics."
The process of candidacy has been "humiliating," Rabbi Arusi said. He will fight as soon as possible to change the law in order to make the process more dignified, he declared.
 "I'll change the elections law. The Rabbinate is no less worthy than the Supreme Court, where judges are selected by a committee of seven or nine members, and not by humiliating themselves by going before 150 people. That is making a mockery of things, and it endangers the status of the Rabbinate," he warned.
A report Wednesday morning posted on the website of IDF Radio (Galei Tzahal) seemed to give backing to Rabbi Arusi's complaint. "The elections campaign for the Chief Rabbinate that will come to an end today were different from those that came before: political spins, cursing, legislative changes, PR campaigns, dozens of strategic advisers, spokespeople and public image experts," it read.