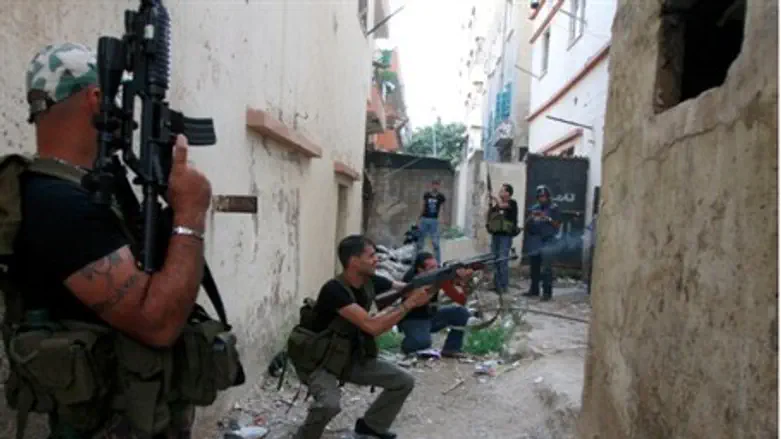 Fighting in Syria
Israel news photo: Flash 90
The Washington Post reported Tuesday that the U.S. will use money already in the CIA's budget and transfer it to operations in Syria, as part of a plan announced last month by the Obama Administration. The plan involves the providing of small arms and ammunition to some of the 1,200 groups of Syrian rebels, some of which have known affiliations with al Qaeda.
The infrastructure is already in place and arms are expected to start coming in the next several weeks, said the Post.
Members of the House intelligence committee who had initially balked at the plan said Monday that their concerns had largely been alleviated.
"The House Intelligence Committee has very strong concerns about the strength of the administration's plans in Syria and its chances for success," Rep. Mike Rogers, R-Mich., chairman of the House panel, said in a statement Monday. "After much discussion and review, we got a consensus that we could move forward with what the administration's plans and intentions are in Syria consistent with committee reservations."
Sen. John McCain (R-Az) has long advocated arming Syrian rebels, and has also called for taking out Syrian President Bashar al-Assad's air assets to create a safe zone for the Syrian opposition.
"I know that we have the military capability to impose a 'no-fly' zone, to crater their runways and their fixed installations where fuel and parts are, and establish a 'no-fly' zone with Patriot missiles," McCain said last month.
However, U.S. Joint Chiefs of Staff Chairman Martin Dempsey said in a letter released Monday that U.S. military involvement in Syria would likely cost billions of dollars and carry a range of risks.
"It is no less than an act of war," Dempsey wrote in the letter to Sen. Carl Levin, D-Michigan, chairman of the Senate Armed Services Committee.