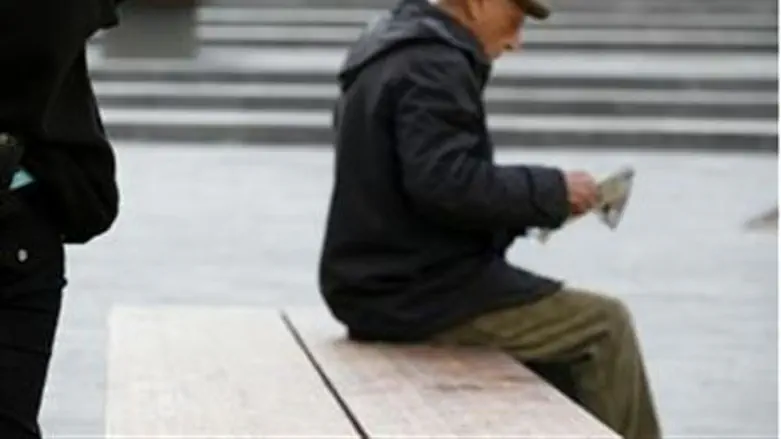 Sitting down to avoid a fall
Israel news photo: Flash 90
Some people believe Ritalin, used to treat Attention Deficit Hyperactivity Disorder (ADHD), is being over-prescribed. Now scientists are probing its use for balance in the elderly.
Researchers at Ben Gurion University of the Negev in Be'er Sheva carried out a study to determine whether a single dose of methyphenidate – the generic form of Ritalin – could be helpful to reduce the risk of falls in the geriatric population.

The study was carried out using a cohort of 30 healthy adults at least 70 years old and able to walk a minimum of 20 meters without personal assistance or using an assistive device. Each participant was given a single dose of 10 mg of the medication, and then evaluated while performing four tasks of single and combined motor and cognitive tasks.
"The enhanced attention that comes about as a result of methylphenidate (MPH) may lead to improved balance control during walking, especially in dual task conditions," explained Itzhak Melzer, principal investigator in the study.
Melzer, who works at the Schwartz Movement Analysis and Rehabilitatio nLaboratory at BGU's Faculty of Health Sciences, wrote that the findings that MPH improves gait could be explained not just by its effect of attentional improvements, "but also by indications that it has a direct influence on areas of the brain that deal with motor and balance control."
The research was published in The Journal of Gerontology.
Methyphenidate (MPH), said Melzer, "helps improve balance control during walking – hence reducing the risk of falls among elderly adults," Melzer explained.
According to the team's findings, a single dose of the medication improved walking by reducing the number of step errors, and the step error rate, in both single and dual tasks.
Methyphenidate has been used for more than sixty years as the first-line medication for the treatment of ADHD in children and adults.
ADHD is a physical, neurobiological condition for which a new diagnostic brain scan was recently approved by the U.S. Federal Drug Administration (FDA). It is estimated to affect approximately 10 percent of school-age children, and up to seven percent of adults worldwide. The condition is believed to be passed genetically and although symptoms may appear to reduce or change, it does not disappear in adulthood.