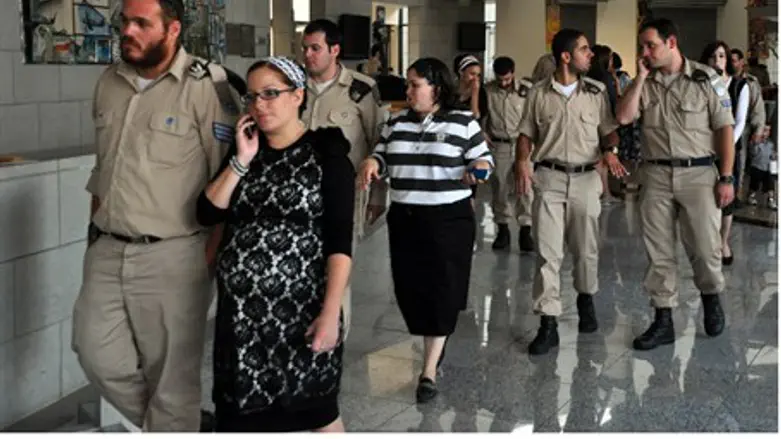 Hareidi soldiers celebrate Tu B'Av
Arutz Sheva photo: IDF Spokesperson
In the wake of recent attacks against hareidi religious soldiers, the city of Haifa conducted a special event honoring soldiers from that community. The event, held Monday, featured hareidi religious soldiers from various IDF units and programs, such as the Shachar program.
The soldiers and their families were treated to a guided tour of Haifa, a visit to the Madatech science museum in the city, a trip to the zoo, a ride on the Carmelit subway, rowboating in Haifa Bay, and an extreme sports experience. Hundreds of soldiers and family members participated.
Earlier this month, an IDF soldier from the hareidi-religious community was attacked in the Jerusalem neighborhood of Meah Shearim. The soldier was pelted with rocks and stones, and chased by a mob of hareidi residents of the neighborhood. Police dispersed the mob and rescued the soldier, who was unharmed. Rioters threw rocks at police, as well as at reporters. Residents said that police attacked them, waving nightsticks and clubbing passerby. Similar attacks were reported in Bnei Brak several days later.
Commenting on Monday's event, Haifa Mayor Yonah Yahav said that that he was "shocked and insulted when I heard about the attacks on hareidi soldiers, who unlike other radical groups in Israel contribute to the security of this country. Israeli society must arise as a single unit to remove and condemn this hooliganism, which veers between insanity and evil, and salute those who serve the country.
"Haifa is an island of sanity where the hareidi community has always, and is, been involved in giving to the community, as opposed to hareidi communities in Jerusalem and other places," Yahav added.