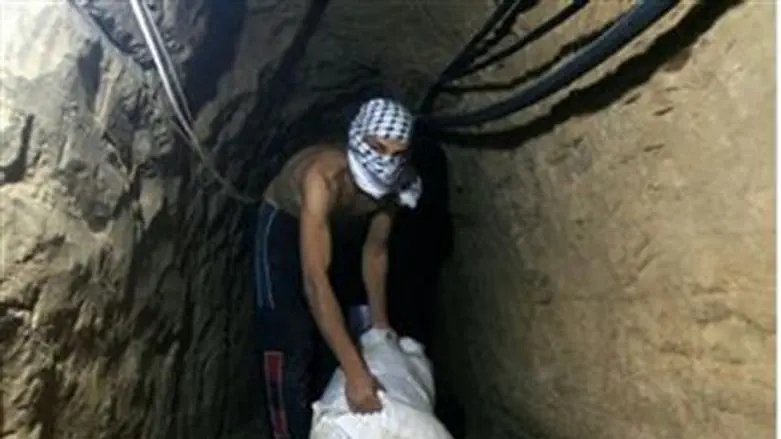 Terrorist tunnel
Israel news photo: Flash 90
The Hamas terrorist group, which controls Gaza, is upset with Egypt over its actions to shut down the smuggling tunnels which are used to transfer goods, weapons and even terrorists between the Sinai and Gaza.
Since the Egyptian military overthrew Islamist President Mohammed Morsi, whose Muslim Brotherhood movement is Hamas's parent movement, the Egyptian army has been operating in the Sinai to eliminate terrorist cells who take advantage of the lawlessness in the region to carry out terrorist attacks. As part of these operations, the army has also been shutting down the smuggling tunnels.
Ala Al-Rafati, Hamas's economy minister, said the tunnel closures since June had cost Gaza around $230 million, around a tenth of its GDP.
"The continued restrictions threaten to bring construction projects to a complete halt," he said on Sunday, referring to cement that has been brought through the tunnels.
Hamas spokesman Sami Abu Zuhri told the Reuters news agency on Sunday that "There is a difficult humanitarian situation in Gaza because of the Egyptian measures on the borders."
He added, "Most of the tunnels were demolished and the few that remain open are paralyzed."
Gaza's Hamas terrorist rulers constantly claim that they need the smuggling tunnels because the region is under an "Israeli siege". However, they ignore the fact that Israel continuously allows humanitarian aid into Gaza. Israel has approved hundreds of internationally funded and monitored projects in Gaza.
Meanwhile, Hamas is the one that has tried to punish the residents of Gaza by attempting to reduce the scope of Israeli goods entering the region. Hamas does this because it is angry that Israel and the Palestinian Authority cooperate over what is transferred into Gaza, ignoring Hamas which rules the region with an iron fist.
Several months ago, a senior IDF officer revealed that Hamas is making at least a million dollars a day in "tax" money from Gaza smugglers.
According to Colonel Wael Tafesh, who is a top IDF officer in the IDF's coordination unit with the Palestinian Authority, Hamas provides "protection" to smugglers and collected payments for the service, and often used the smugglers to order goods for their own use.
According to Wafesh, Hamas is in full control of what goes in and comes out of the smuggling tunnels. News reports and PA officials have sought to paint Hamas as unable to cope with the "wily" smugglers who were able to operate under the radar.