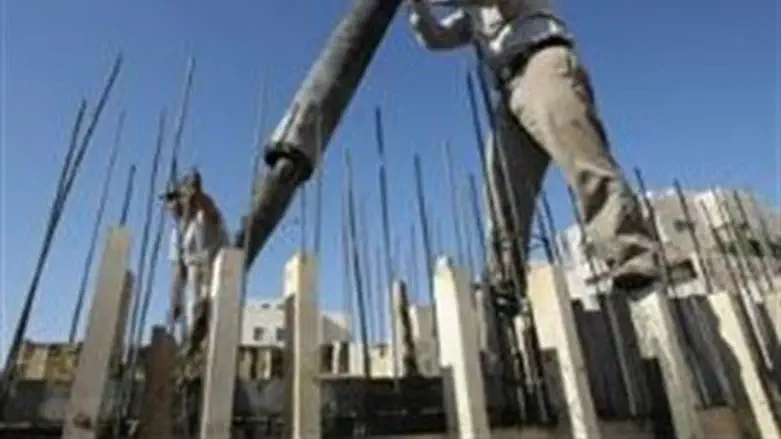 Yesha Construction
Flash 90
Thirty-one Knesset Members have called on Prime Minister Binyamin Netanyahu to end the de facto freeze on construction in Judea and Samaria, in response to the European Union's decision to boycott the parts of Israel that were liberated in 1967.
The of MKs, some of whom are deputy ministers, are members of the Knesset Caucus for the Land of Israel.
"In recent days, we are witnessing another attempt by the European Union to intimidate the State of Israel, and we therefore demand the immediate resumption of contruction in Judea and Samaria," the MKs wrote in a letter that was quoted by Channel 10.
The MKs asked Netanyahu to allow planned tenders to be carried out, and to issue permits for new housing units in Judea and Samaria.
The petition follows similar calls by the Legal Forum for the Land of Israel, calling on the government to respond by implementing the findings of the Levi Report, which ruled that Israel's presence in Judea and Samaria is legal under international law, and recommended state approval for as-yet unauthorized communities in Judea and Samaria
Palestinians "get a free pass"
On Tuesday, it became known that the European Union has issued orders forbidding its member states from cooperating, transferring funds, giving scholarships or research grants to bodies in Judea and Samaria, eastern Jerusalem, and even the Golan Heights.
The new instruction, promulgated by the European Commission, which is the operative arm of the EU, sets parameters for cooperation between the EU and its members states, on the one hand, and Israeli governmental and private elements on the other. The instructions are for the years 2014 – 2020 and will go into force on Friday, July 18.
The decision also states that any future agreement signed with Israel must include a section that says the "settlements" are not part of sovereign Israel and therefore not included in the agreement.
It has been roundly criticized by Israeli politicians across the political spectrum for placing pressure solely on Israel. 
On Wednesday, Abraham Foxman, National Director of the US-based Anti Defamation League (ADL) condemned the move in a letter to EU foreign policy chief Catherine Ashton.
"President [Mahmoud] Abbas has blocked the [peace] process with his preconditions, so who does the EU pressure?  Israel.  Who gets a free pass? The Palestinians."
Foxman called on the EU to end its "long-standing habit of not holding the Palestinian Authority responsible for its actions and inactions that are unequivocally obstacles to peace," and reminded Ashton that in fact, risks to peace were an issue long before the establishment of communities in the region.