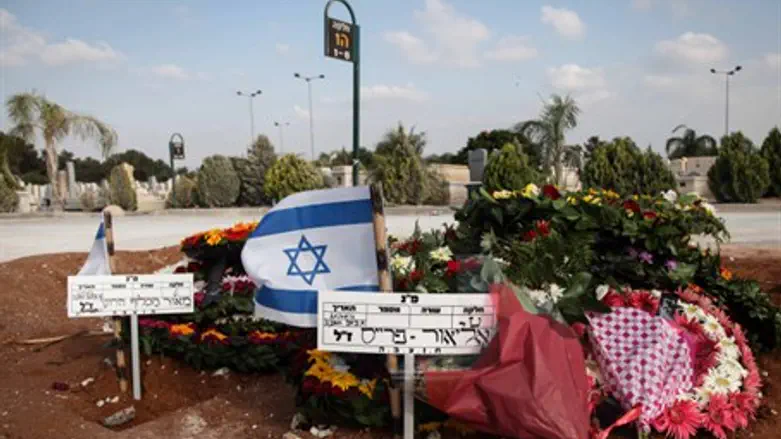 Graves of Burgas victims
Israel news photo: Flash 90
Bulgaria Thursday commemorated the one-year anniversary of a deadly attack on an Israeli tourist bus on its soil and called for sanctions against Hizbullah, which is widely suspected of being behind the bombing.
Meanwhile, Lebanon has asked the European Union not to place Hizbullah on the list of terrorist groups – but if the EU decides to do so nonetheless, it will be in large part because of the Burgas bombing.
At a ceremony in the Black Sea resort of Burgas to mark the six dead and 35 wounded in the attack, Prime Minister Plamen Oresharski said the EU should "work towards a consensus decision that would allow... the military wing of Hizbullah to be added to its list of terror organizations."
EU foreign ministers will discuss on July 22 whether to add the powerful Lebanese Shiite movement to their list of terrorist groups.
Israel immediately blamed Iran and its "terrorist proxy" Hizbullah after the bombing, which killed five Israeli tourists and the Bulgarian driver of the bus at Burgas airport on July 18, 2012, in the deadliest attack on Israelis abroad since 2004.
Bulgaria also pointed the finger at Hizbullah.
"There are clear links to Hizbullah behind this attack," Interior Minister Tsvetlin Yovchev said Thursday, citing new information from foreign intelligence services.
He pointed to "the very professional preparation and execution of this terrorist act."
Victims' families took part in a religious ceremony at the site of the attack, followed by the inauguration of a monument with six columns representing each of those killed.
Despite recovering fingerprints and DNA from the bomber – who also died in the attack – Bulgaria has been struggling to identify the culprits.
A re-enactment of the attack showed the bomber either died by mistake or his device was detonated at a distance.
"We do not have enough evidence to accuse a specific person of a specific crime," Burgas regional prosecutor Kalina Chapkanov told BNT public television Thursday.
Meanwhile, Lebanon will ask the EU not to name Hizbullah group a terrorist organization.
A statement released by President Michel Suleiman's office Thursday says Hizbullah is a "main component of Lebanese society."
The EU has long avoided naming Hizbullah a terror organization despite U.S pressure.
The move received a push from a decision by Germany to list Hizbullah as a terror group. Germany said the decision was influenced by the attack in Bulgaria.