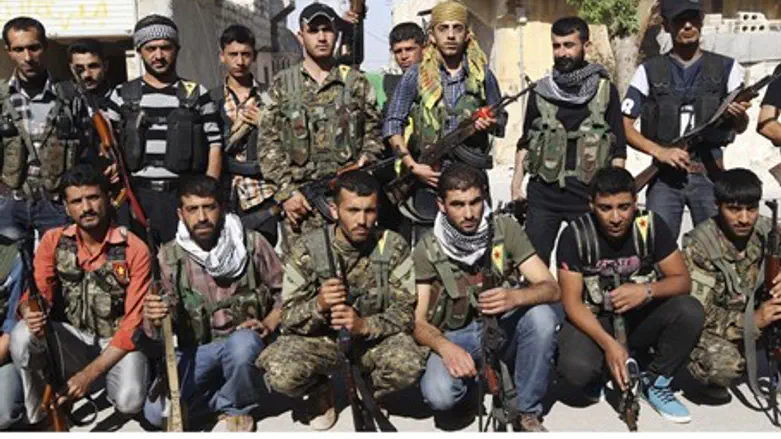 Kurdish YPG fighters
Flash 90
Turkey is growing increasingly concerned over the activity of Kurdish militants in Syria's civil war, as a flashpoint town takes ever-greater prominence on the Turkish-Syrian border.
After months of clashes between Syrian Islamist rebels and Kurdish fighters, large areas previously controlled by Islamist extremists in the city of Ras al-Ain were finally conquered by Kurdish groups this week.
But the capture of Ras al-Ain by the Democratic Union Party (PYD) and Kurdish People's Defense Units (YPG) has the Turkish government concerned. 
Just across the border, the Kurdistan Workers' Party (PKK) - proscribed as a terrorist group by Turkey, the US and others - has waged a campaign for Kurdish autonomy for decades. Despite recent steps towards a peace agreement. between Turkey and the PKK, sources within the Turkish military told foreign journalists on Thursday that Ankara is concerned an autonomous Kurdish region could embolden the PKK to fight even harder for a similar secessionist state in Turkey.
The PKK, PYD and YPG have strong ties, and have formed a plan to create an autonomous transitional government in areas they control, with an eye towards holding elections for a local Kurdish government in Syria within six months.
Kurdistan is a region spanning parts of Syria, Iraq, Turkey and Iran. The Kurdish people are the largest ethnic group in the Middle East without an independent state, although the Kurdish Regional Government in northern Iraq has a significant degree of autonomy from the Iraqi central government.
Urgent action
Turkish Foreign Minister Ahmet Davutoglu called on the international community this week to take urgent action in Syria after a man was killed and a 15 year old boy was seriously wounded by stray bullets in spillover gunfire during the clashes in Ras al-Ain.
Davutoglu told a gathering late Wednesday at an iftar dinner following the daily Ramadan fast in Konya, "The time for saying 'stop' to this cruel massacre in Syria has already passed. Otherwise, the meaning of a lot of international organization missions, in particular of the U.N. Security Council, will disappear," he warned.