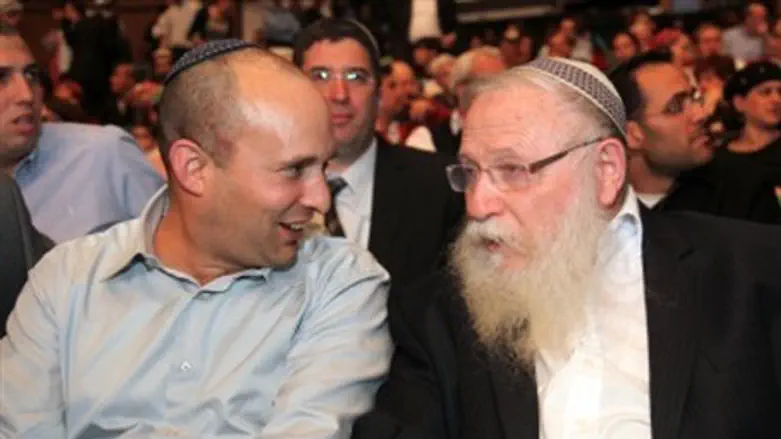 MK Bennett and Rabbi Druckman
Israel news photo: Flash 90
The Head of the Bnei Akiva Yeshivot [religious academies], Rabbi Haim Druckman, lashed out strongly Wednesday against the legal opinion published by Attorney General Yehuda Weinstein, in which he expressed his opposition to the candidacy of Rabbi Shmuel Eliyahu to the post of Chief Sephardi Rabbi .
"The Attorney General did a very grave thing when he used the cloak of his position in order to harm one of the most serious and important candidates for the Chief Rabbinate, and thus influence the selecting body," Rabbi Druckman wrote.
Attorney General Weinstein is expected to inform Rabbi Eliyahu that because of his past statements regarding renting land to Arabs, Weinstein will not be able to defend his appointment should any appeals be filed against it. 
Weinstein's position does not prevent Rabbi Eliyahu from running, but if a petition is submitted to the High Court over the candidacy, it may be easier for the Court to disqualify Rabbi Eliyahu in the absence of support for the candidacy from the Attorney General.
"The Attorney General does not possess any legal status whatsoever in regard to candidates for the Chief Rabbinate, and therefore, his announcement caused great damage to the democratic process in Israel," Rabbi Druckman added. "The opinion of the Attorney General on the matter is not worth more than that of any other body or person in the state of Israel."
"One hopes that the Attorney General understands his job properly, but it seems that he does not understand at all, who is the right person to be Israel's chief rabbi," Rabbi Druckman continued.
"There is no doubt that Rabbi Eliyahu is very appropriate for the position, both from a Torah perspective and from a public one, and surely he will follow in the footsteps of his father, the great Rabbi Mordechai Eliyahu, of blessed memory, and there is no doubt that the Nation of Israel, in all of its parts, will be blessed by his residence in office."
Rabbi Druckman was recently honored by the prime minister and many other dignitaries on the occasion of his 80th birthday and is one of the most respected leaders of religious Zionism. Bayit Yehudi Chairman MK Naftali Bennett said at the occasion honoring Rabbi Druckman that he is "a model for generations of his students of a person who serves his nation – the nation of Israel with the Torah of Israel – and treats everyone, big and small, with respect and dignity. I think we can never reach his level, but Rav Druckman is my role model."
The two Chief Rabbi positions (Sephardi and Ashkenazi) have for the past decade or so been dominated by the hareidi establishment. The exclusion of the hareidi Shas and UTJ parties from the current coalition, coupled with the resurgence of the religious Zionist "Bayit Yehudi" (Jewish Home) party, has meant that the race for the position later this year will be hotly contested by religious-Zionist candidates, including Rabbi Eliyahu.