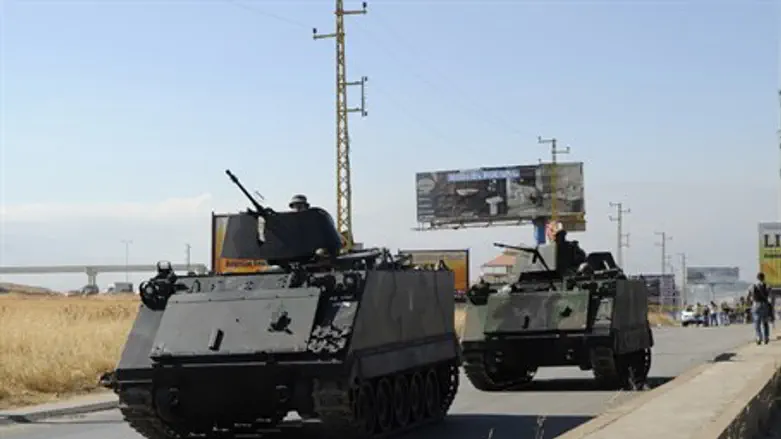 Lebanese Army soldiers secure the site of a r
Reuters
Four members of the Hizbullah terrorist group were wounded on Tuesday in an ambush that targeted one of the group's convoys on an east Lebanon highway bordering Syria, security sources told the Lebanon-bases Daily Star.
A roadside bomb exploded near two SUVs on the highway linking the town of Majdal Anjar to the Masnaa border crossing with Syria, according to the report.
The vehicles which were on their way to Damascus were also shot at after the explosion.
Lebanon's National News Agency identified two of the wounded as Hussein Ali Der and Fadi Abdel-Karim, they were transferred to Chtaura hospital and then to Beirut.
Hours later, the Lebanese Army confirmed the bombing, saying a number of the vehicle's passengers were wounded in the attack.
The military police launched an investigation into the incident under the supervision of the judiciary, it added.
Al Arabiya reported that at least one person was killed in the roadside bomb attack.
The incident comes a week after after a car-bomb ripped through a Hizbullah stronghold in a suburb of the Lebanese capital Beirut, wounding dozens of people.
The Liwa'a 313 Brigade, a faction of the rebel Free Syrian Army (FSA), claimed responsibility for the bomb attack, lashing out a Lebanon for actively assisting Hizbullah. It claimed the bombing was a response to Hizbullah participation in the Syrian regime's ongoing offensive against the city of Homs - a strategically important position and a hub of rebel activity.
Initially Hizbullah said it wanted only to defend 13 Syrian villages along the border where Lebanese Shiites live, and the Sayyeda Zeinab shrine near Damascus, which is revered by Shiites around the world.
However, its terrorists later encircled Qusayr with regime troops before the launch of a withering assault on the strategic border town. Hizbullah leader Hassan Nasrallah has promised that his group will be wherever is needed in Syria.