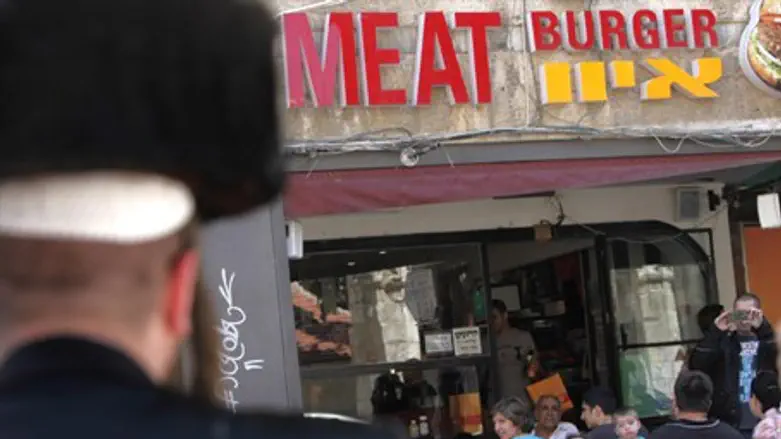 non-kosher restaurant
israel news photo: Flash 90
The European Jewish Association (EJA) on Monday called upon worldwide Jewish organizations to put aside their differences and unite all their efforts towards reversing the Polish parliament decision to ban kosher slaughter.
The lower house of the Polish parliament (Sejm) voted on Friday to reject a government motion to re-legalize the religious practice of kosher slaughter, provoking outrage in the Jewish community over freedom of religion.
The ritual slaughter of animals was banned by Poland's Constitutional Court last December after judges found that it was ''incompatible with animal rights legislation.''
''We must unite all our efforts to fight this legislation which can potentially contribute to Jewish exclusion and to violate Jewish freedom of religion and worship throughout Europe, specifically in Poland, with all its symbolic significance to Jewish history, '' said EJA Director General Rabbi Menachem Margolin, according to the European Jewish Press (EJP).
Since the Friday vote, Margolin conducted a series of intensive talks with Polish leaders and representatives in the EU Parliament, the EJP reported.
In a letter sent to Polish President, Bronisław Komorowski, and Polish Parliament Marshal (Speaker), Ewa Kopacz, Rabbi Margolin urged them to meet with members of the Jewish community in order to discuss ways to reversing this decision.
According to the EJP, the letter called the Polish Parliament vote ''devastating to Jewish welfare and freedom of religion.''
"Kosher butchering that has been proven scientifically as not crueler than any other method, is essential for sustenance of Jewish life and its ban hurts Jews not only in Poland but across Europe and all over the world," the letter said.
Rabbi Margolin also emphasized that the Rabbinical center of Europe (RCE) is already mobilized, with rabbis across Europe arranging meetings with the Polish ambassadors in their respective countries in order to protest the ban.
"We will fight with resolve, using all the legitimate means at our disposal, in order to assure that no Jewish person will find himself excluded in Poland or in any other European country for simply living according to his or her beliefs,'' he said.