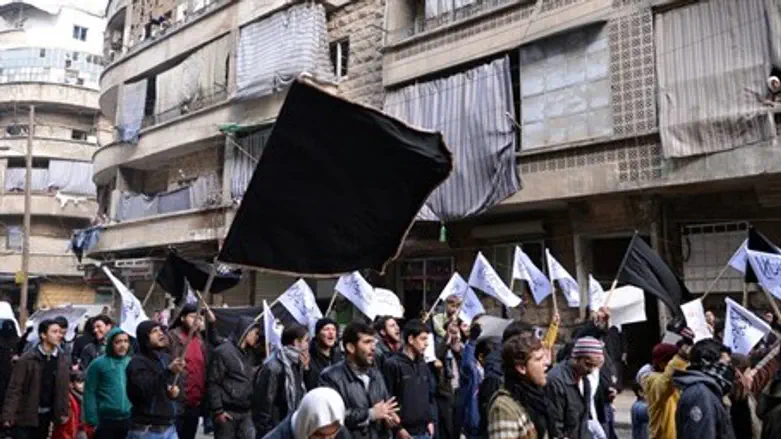 Syrian supporters of the Al-Nusra group
AFP photo
The Syrian rebels are continuing to turn on one another. Syrian rebels linked to Al-Qaeda killed a senior figure in the Western-backed Free Syrian Army (FSA) on Thursday, an FSA source told Reuters.
Kamal Hamami, a member of the Free Syrian Army's Supreme Military Council, known by his nom de guerre Abu Bassel al-Ladkani, was meeting with members of the Islamic State of Iraq and the Levant in the port city of Latakia when they killed him, Qassem Saadeddine, a Free Syrian Army spokesman, told the news agency.
"The Islamic State phoned me saying that they killed Abu Bassel and that they will kill all of the Supreme Military Council," Saadeddine said from Syria.
"He met them to discuss battle plans," Saadeddine added.
Reports earlier this week indicated that local infighting between Islamist rebel factions – and between the jihadists and the more moderate opposition forces – has begun in Syria.
The violence is taking place despite the fact that the civil war between the opposition fighters and loyalists defending President Bashar Al-Assad has not yet ended.
A merger formed between the Islamic State of Iraq, and al-Sham (ISIS), the Syrian unit, has been working to swallow northern Syrian real estate over the past year.
It also is becoming increasingly clear that ISIS has swallowed the local Al-Qaeda-linked Jabhat al-Nusra (Al-Nusra Front), which once was the largest faction in the Islamist Front for the Liberation of Syria – the 13-member rebel coalition that broke away from the main opposition force.
Members of Al-Nusra have performed atrocities during the ongoing civil war, including publicly beheading a Catholic priest who was accused of collaborating with the Assad regime.
There has been growing pressure to arm the Syrian rebels, particularly since the U.S. government confirmed that the Syrian army used chemical weapons against rebel forces on multiple occasions, thus violating the "red line" set by Obama.
However, there has also been reluctance by some to arm the rebels, out of a fear that the weapons may end up in the hands of the radicals.