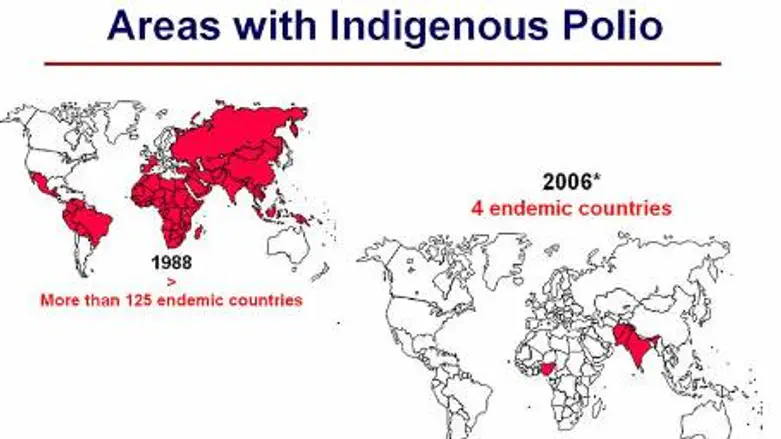 Only 4 countries still have endemic polio
Israel news photo: courtesy of WHO
Traces of the poliomyelitis virus are continuing to appear in sewage treatment facilities in southern and central Israel according to the Health Ministry.
The virus, which can cause paralysis, was once considered eradicated. But nearly one million doses of the "live attenuated" oral vaccine were ordered at a cost of several million shekels after the live virus was first detected in February in routine samples of sewage extracted from Rahat.
Israel is one of only five countries in the world that routinely tests stool samples, via 16 sewage treatment plants around the country.
Health Minister Yael German stressed there is "no reason to panic," saying that not even one case of clinical poliomyelitis has appeared thus far.
But the ministry is continuing to monitor and examine stool samples around the country, and traces are continuing to spread. The areas where the virus have been detected include the Lev Hasharon area, Modi'in, Ramle, the Negev Bedouin city of Rahat, Be'er Sheva, Ashdod and Tel Aviv. 
According to some experts who testified before the Knesset Health Committee last month, some 10 percent of Negev residents have not been inoculated against the virus.
An advanced form of the oral polio vaccine is to be administered to some 150,000 children in the south this month, following last month's visit to Israel by officials from the World Health Organization and the U.S. Centers for Disease Control.
Some rabbis in Jerusalem have begun to announce their recommendation to vaccinate all children under the age of six. 
Five vaccination stations were opened in Jerusalem for the purpose of distributing polio vaccines to the hareidi-religious population, which includes families who choose not to immunize their children at all.
In an alarming development, Knesset member Yisrael Eichler (UTJ) recently charged that many of the well-baby clinics in hareidi-religious neighborhoods around the country have failed to keep up with the high birthrate and to monitor the children's health in these families. 
As a result, he warned, thousands of children in the country could be at risk.