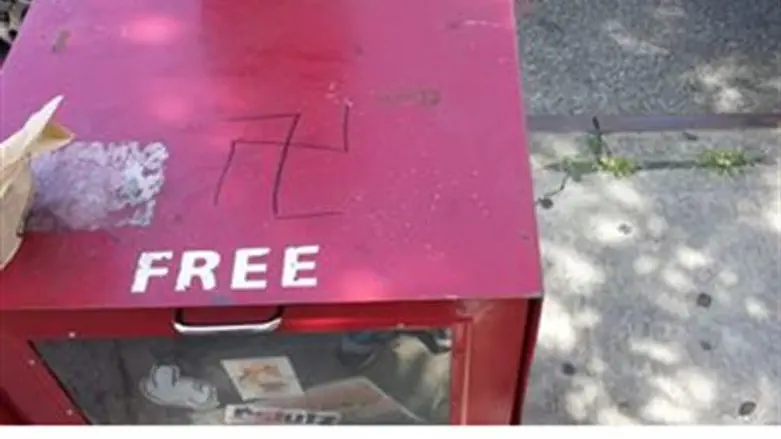 Swastika scrawled in Midwood, Brooklyn
Israel news photo: Dov Levi
A swastika didn't even raise eyebrows this week when it appeared on a central street corner in the middle of the Midwood section of Brooklyn, a major Jewish neighborhood. 
The Nazi symbol was scrawled on a newspaper distribution box on the corner of Avenue J and East 14th Street. Drawn in black magic marker, it was seen on the top of the red box of the Brooklyn local Kings Courier free weekly newspaper.
A local Jewish resident, noticing the mark, snapped the photo and posted it on Facebook. But few people even bothered to comment.  
One Facebook member wrote, "Those rascally Buddhists / Hindus. I hope."  But a second writer responded, "Not in a Jewish neighborhood. More like Pakistani Muslims..." A commentator from Israel added, "What's weird is the laid-back attitude that everyone is taking towards this." 
In January 2012, a half-dozen swastikas were found in the same heavily-Jewish neighborhood. No arrests were made.
A rash of swastikas were also spray-painted in at least six different locations in June 2012 in the nearby Borough Park section of Brooklyn, a Chassidic neighborhood. One of the sites included a synagogue.
Police were pressured to track down and arrest the perpetrators in that case, and surveillance images of two suspects were released to the media. NYPD's Hate Crimes Task Force launched an investigation into the incident, and a city council member offered a $1,000 reward for information leading to an arrest and conviction.