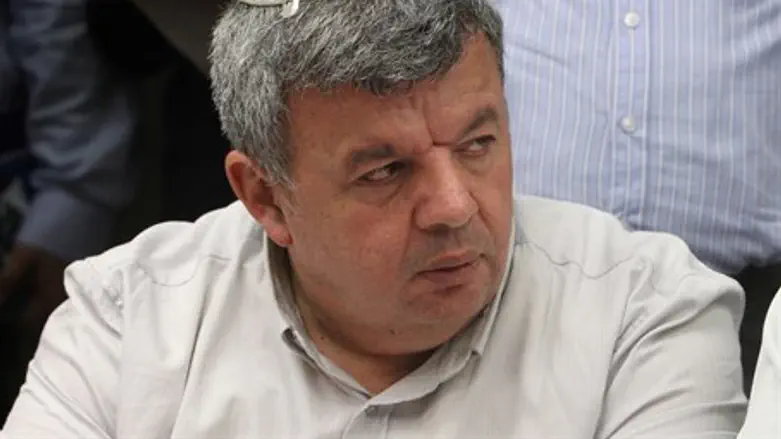 MK Zevulun Kalfa
Israel news photo: Flash 90
MKs were up in arms Sunday over revelations that a PLO terrorist and former minister in the Palestinian Authority was due to be a guest of honor in Israel's Knesset Monday. Ashraf al-Ajrami is an active member of the Geneva Initiative, who spent 12 years in Israeli prisons for terror activities. He is set to come to the Knesset Monday as a guest of MKs active in the Geneva Initiative, including Labor head Shelly Yachimovich, Hatnu'a head Tzipi Livni, top Meretz MK Zehava Galon, and MKs from several parties.
In a special request to Knesset speaker Yuli Edelstein, Bayit Yehudi MK Zvulun Kalfa requested that al-Ajrami be barred from the Knesset building.
In a 2009 interview on PA television, al-Ajrami praised arch-terrorist Yasser Arafat as the "master of the resistance to Israel," and went on to praise several terror attacks against Israel, in which 17 Israelis were murdered.
"It is unthinkable that someone who praises murderers should visit the Knesset as an honored guest," Kalfa wrote in his letter to Edelstein. "Please do not let al-Ajrami into Israel's lawmaking body," he added.
In a separate letter, the Legal Forum for the Land of Israel also asked Edelstein to keep al-Ajrami out of the Knesset. "Ashraf al-Ajrami, formerly the Minister for Prisoners in the PA, and who himself served 12 years in Israeli prisons for terror activities, said at a forum at Bar Ilan University that violence against IDF soldiers was legitimate." In addition, the letter to Edelstein added, al-Ajrami praised Lebanese terrorist Samir Quntar for his murder of the Haran family in Nahariya, calling Quntar "a hero." Among those killed in that terror attack was a four year old girl.