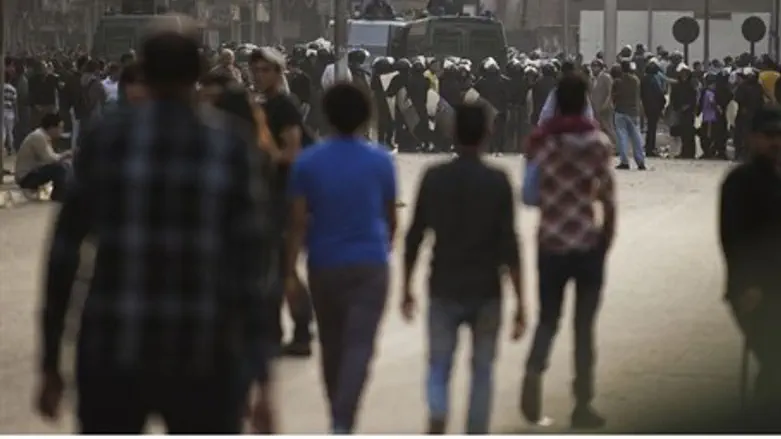 Cairo clashes (file)
AFP photo
Violence in Egypt has been renewed, some 24 hours after elected president Mohamed Morsi was deposed by the military.
Egyptian media reported that there were clashes Thursday afternoon between supporters of Morsi and security forces at A-Nahda, near Cairo University.
Several protesters climbed atop military armored personnel carriers and called out slogans against the military council that deposed Morsi. Security forces fired in the air to disperse the crowd. One person was arrested on suspicion that he held explosives.
A-Nahda Square was a focus of opposition to the rebellion against Morsi. That is why police and military are making a concentrated effort to prevent Muslim Brtherhood supporters from reaching the place.
Sky News in Arabic reported that extremist Salafist leader Hazem Abu Ismail, whose candidacy for Egypt's presidency was disqualified in the past, has been arrested by the military. The security forces have been carrying out a wave of arrests of senior Muslim Brotherhood figures.
One of those arrested, reportedly, is Muhamd Badi, the spiritual leader of the Brotherhood. Senior officials in the security establishment said he was arrested on suspicion of incitement to violence at a coastal town and taken to Cairo by helicopter.