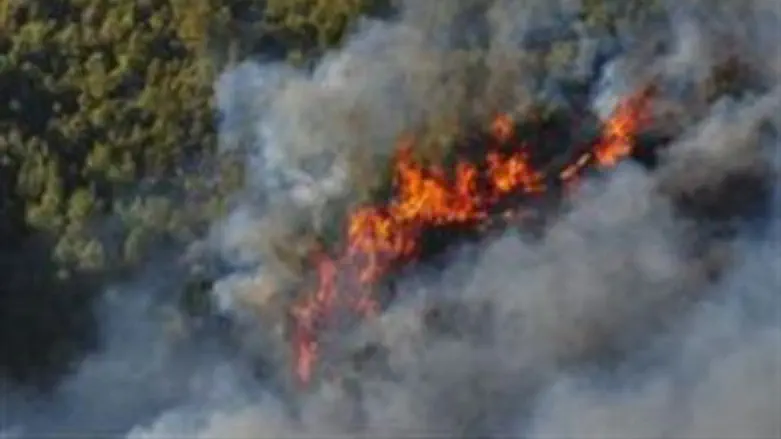 Carmel fire
Israel news photo: Flash 90
An emotional debate took place Wednesday in the Knesset's State Control Committee as relatives of those who died in the Carmel fire asked why the commanders whose mistakes lead to loss of life were later promoted.
Some of the bereaved families said they had found evidence pointing at a police cover-up of the mistakes made by senior police commanders during the fire.
Committee head MK Amnon Cohen (Shas) asked the families to give him the evidence, and said he would speak to the head of the Israel Police's Internal Affairs department about the matter.
Cohen also ordered the Ministry of Internal Security to reveal the operational investigation into the Carmel disaster, and to explain why senior commanders who were involved in decision-making at the time were promoted.
Forty-four people were killed in the 2010 blaze, 37 of them Prison Service cadets and their commanding officers who were on board a bus that was engulfed in flames. The bus was bringing them back from evacuating Palestinian Authority prisoners from a jail threatened by fire.
Commander (ret.) Zev Even-Chen, who lost his daughter Topaz in the fire, said, "People went because they were given an order from the state, and they paid with their lives, and the state did not see fit to figure out who was responsible for the failure."
"There was no investigation of what happened near the bus, we had to gather evidence alone. We found evidence of wounded people being abandoned, and of evidence being covered up by Northern District Commander Ronnie Atia," he accused.
Shulamit Pinto, whose daughter Oshrat died as well, said that her daughter had lain dying for 20 minutes, and asked why no rescue personnel had been sent to the scene.
Tzviya Riven, who lost her son Elad in the fire, said, "There is no doubt that people in power were negligent as the disaster was unfolding. This must be a turning point toward a national culture of taking responsibility."
MK Orit Struk (Bayit Yehudi) expressed her support for the families. "Our brothers' blood is calling from the ground. The report clearly states that there were serious mistakes in command, including interference with investigations by senior commanders. The commanders must not be promoted, they did not show personal responsibility."
Former officers and MKs David Tzur (Hatnua) and Moshe Mizrachi (Labor) both expressed their agreement as well. "The authorities failed completely," Mizrachi said.
MK Cohen expressed concern that unless preventative measures are taken, Israel could experience another fire disaster, this time in a residential building or office. Multi-storey buildings from the 60s and 70s could become firetraps, he said, and the families living in older buildings are least likely to be able to afford safety devices such as smoke detectors.