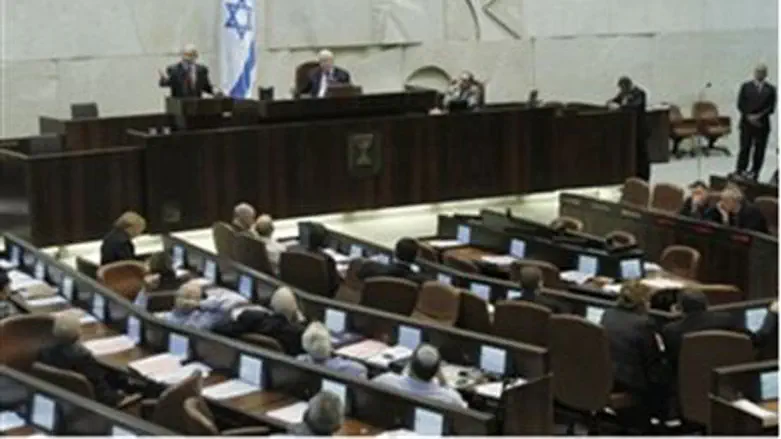 Knesset
Israel news photo: Flash 90
The Knesset gave its approval Wednesday to a bill that would introduce changes to the current system of government. The bill passed an initial vote following a stormy debate.
The bill, introduced by MK Ronen Hoffman (Yesh Atid), would limit the number of ministers and deputy ministers in the government.
It would also increase the vote threshold to enter Knesset, and would make it harder to topple the government by raising the number of votes needed to pass a no-confidence measure to 65. Even if a no-confidence measure were to pass, it would not go into effect unless an alternate government had been suggested.
The bill would cancel a law that dissolves the Knesset if it cannot approve a state budget, and would change government funding for existing political parties such that new parties formed by MKs who left an existing party would receive state funding only if the majority of the original party's members were part of the new faction.
"The government has constantly been on the receiving end of threats to leave the coalition and various attempts at political blackmail for 'loyalty,'" MK Hoffman said.
"The result is that the Prime Minister is often engaged in appeasing and compensating instead of in managing policy," he continued. "The proposed system of 'full and constructive no-confidence' would save the Prime Minister unnecessary struggles for survival, and allow him to use his time for managing state affairs."
The suggested process "would allow a government to be toppled only if there were a realistic alternative," he added.
MK Yitzchak Herzog of the Labor party expressed opposition to the bill. "The world is round, and what you think you're firing into space eventually comes back at you. You will be hit by this, too," he warned.
"It's not reasonable to bring this law this way, with this kind of underhanded opportunism," he added. "We will fight this law with everything at our disposal… We are willing to pay a terrible price."