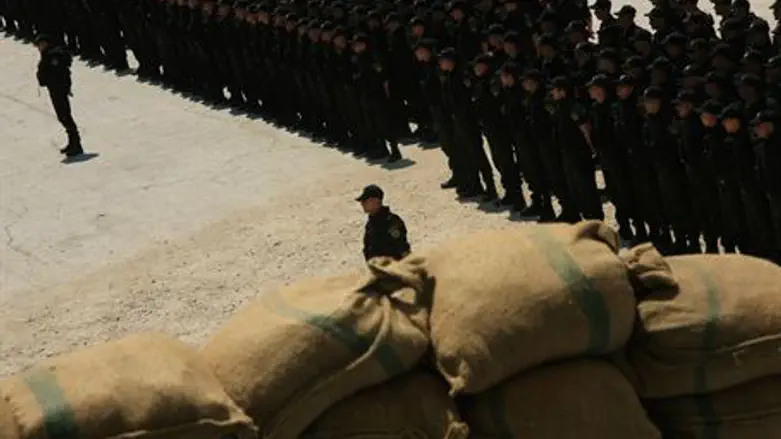 PA Police in Jenin
Flash 90
The Shin Bet (Israel Security Agency) revealed Wednesday that a Palestinian Authority security officer was arrested several weeks ago for carrying out a terrorist attack in Samaria (Shomron).
The PA officer shot a 70-year-old Jewish man as he waited at a hitchhiking station outside Kedumim. His victim suffered light-to-moderate wounds.
Two of the officer's brothers assisted him before and after the attack.
The detainees have been identified as: Iyad Adnan Mohammed Daoud, 30, of Kalkilya, who worked as a PA police officer, and his brothers Baha Adnan Mohammed Daoud, 27, and Mahmoud Adnan Mohammed Daoud, 22.
Iyad Daoud admitted to carrying out the attack. His brothers confessed to their roles in the attack as well. Baha Daoud assisted in preparing for the attack, and he and Mahmoud Daoud both helped Iyad cover his tracks after the shooting.
The Shin Bet noted that prior to his arrest by Israeli security officers, Iyad Daoud had been arrested by the PA on suspicion of involvement in the shooting in question.
He was released by PA security personnel after denying involvement.