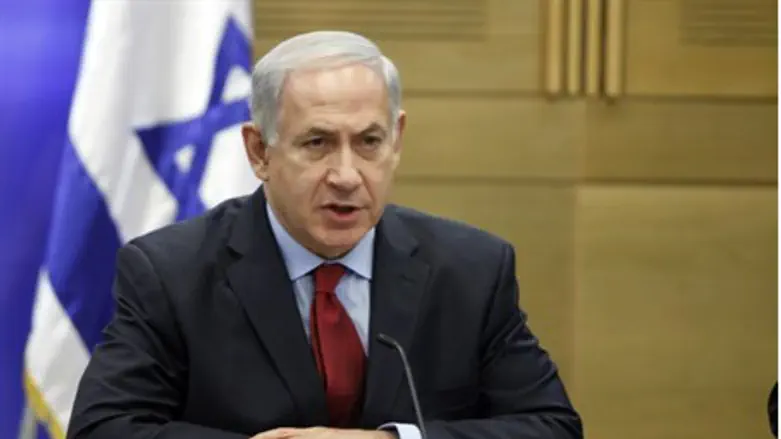 PM Netanyahu
Flash 90
Speaking at a ceremony marking the 109th anniversary of the death of the father of modern Zionism, Theodor Herzl, Prime Minister Binyamin Netanyahu stressed that any peace deal with the Palestinian Authority must be based on Israel's ability to defend itself if the agreement breaks down.
Speaking just hours before US Secretary of State John Kerry's arrival, Netanyahu said that, "Peace rests on security. It is not based on good will or legitimacy as some think. It is based, first and foremost, on our ability to defend ourselves."
Kerry is due back in Jerusalem on Thursday evening on his fifth trip in as many months as he seeks to coax Israel and the Palestinian Authority back to direct negotiations, which collapsed nearly three years ago.
"Without security, without the army that Herzl called to establish, we cannot defend peace, we cannot defend ourselves if the peace unravels," Netanyahu said in remarks communicated by his office.
"A basic condition for the existence of peace, for the achievement of it and for preserving it, is security," the prime minister affirmed.
President Shimon Peres, also speaking at the ceremony on Mount Herzl stated that, "Peace is a moral foundation of Judaism; it is an existential need of the Jewish state. A binational state contradicts the vision of Herzl; it endangers the Jewish and democratic state of Israel."
"There is a chance to renew the peace process, and it is not to be missed. We welcome the arrival of Secretary of State Kerry, to Israel. This is an effort to revive the process and we will all help it to succeed," he added.