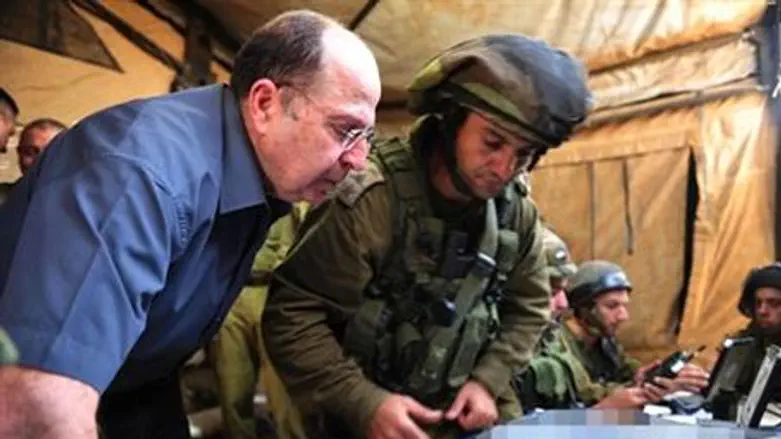 Yaalon views Golani preparations
Israel news photo: Ariel Hermoni
Defense Minister Moshe Yaalon hinted Wednesday that Israel may call up its combat soldiers for a major operation in the near future.
Yaalon spoke as he and Prime Minister Binyamin Netanyahu observed a Golani Brigade drill in the Golan.
"I was impressed by the Golani Brigade's capability, preparedness and skill," he said.
"Golani, like many other IDF combat units, is likely to be called to operational service on short notice," he added. "That's why this exercise, like other drills in recent days, has special meaning at this time and in this place."
He made his warning more explicit, saying, "We will not tolerate violations of our sovereignty or harm done to our soldiers and civilians, whether here, in Gaza or elsewhere."
"It's important to clarify to everyone on the other side of the border who may be planning to harm us in some way, that we are prepared and determined to act," Yaalon said.
Fighting in Syria has spilled over to the Golan on recent occasions, prompting urgent warnings from Israel.
Netanyahu spoke about the current fragile quiet in the Golan as well. "The reality around us is changing at tremendous speed," he said. "It is volatile and dynamic, and we have to be prepared accordingly."
"Nobody will hurt the State of Israel," Netanyahu declared. "We have a very strong, very decisive response."
"We need the will to break our enemies and to put the fear of death into them," he added.