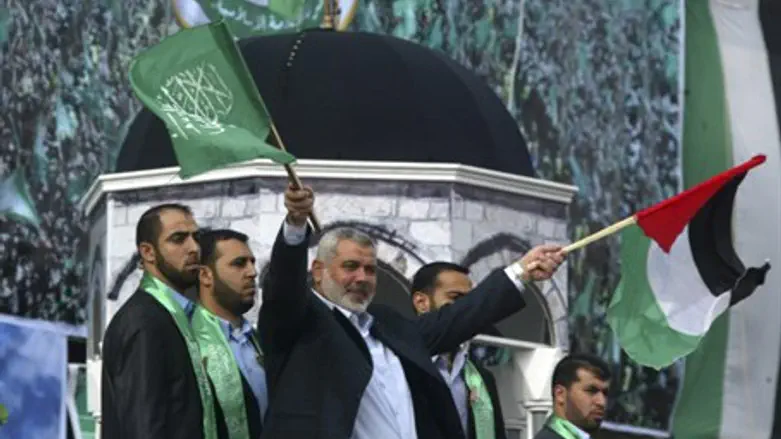 Hamas leader Ismail Haniyeh
Flash 90
Hamas's Prime Minister Ismail Haniyeh said on Tuesday that Palestinian Authority Arabs would never recognize Israel.
"We had two wars in which hundreds of people died, and thousands of acres of land were destroyed, but Palestinians did not and will not recognize Israel," the Gaza premier said as he welcomed international activists to the enclave, reported the Ma'an news agency.
Haniyeh said Israel's "blockade" on Gaza aimed to limit the influence of the Islamic model outside Gaza and to isolate "Palestine" in an attempt to force PA Arabs to recognize Israel and accept the conditions of the Mideast Quartet.
The premier thanked activists who came to Gaza, describing solidarity visits as a holy duty and urging more supporters to come.
Haniyeh said aid groups who visited Gaza in solidarity had a political and a humanitarian message, showing that Gaza did not stand alone.
"These groups, along with the help of God and the Palestinian steadfastness, eased the siege," he added, according to Ma'an.
Haniyeh highlighted his government's efforts to generate support for Jerusalem, claiming that "the occupation built a hundred synagogues around al-Aqsa to deceive the world and falsify facts."
Gaza's Hamas terrorist rulers constantly claim that the region is under an "Israeli siege", ignoring the fact that Israel continuously allows humanitarian aid into Gaza. Israel has approved hundreds of internationally funded and monitored projects in Gaza.
Israel has also supported the private sector in Gaza, and has approved the transfer of raw materials for private sector construction, including roof tiles, building stones, dry wall, mosaics, adhesives, plaster, etc.
The activists' visit to Gaza is another in a series of visits hosted by Hamas officials, despite the supposed "siege". Gaza's Hamas terrorist rulers have hosted a slew of Arab leaders in their "besieged" territory in recent months. These have included the emir of oil-rich Qatar who brought money for the Hamas government in October, Turkish Foreign Minister Ahmet Davutoglu, and Egypt's Prime Minister Hisham Qandil.
Meanwhile, it is Hamas itself that is trying to punish the residents of Gaza by attempting to reduce the scope of Israeli goods entering the region. Hamas does this because it is angry that Israel and the Palestinian Authority cooperate over what is transferred into Gaza, ignoring Hamas which rules the region with an iron fist.
European Union foreign policy chief Catherine Ashton last week called for a relief of the Israeli naval blockade on Gaza. Ironically, she did so while visiting Gaza and thus proving that there is no siege.