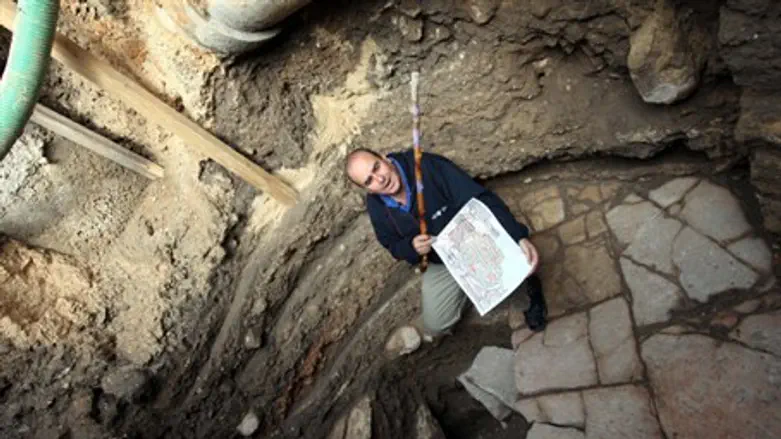 Ancient findings (illustrative)
Israel news photo: Flash 90
An ancient road that led from Yafo (Jaffa) to Jerusalem has been found in the Jerusalem neighborhood of Beit Hanina. The road is believed to date back to the Roman period (second to fourth centuries BCE).
The road was discovered during an excavation conducted by the Israel Antiquities Authority prior to the installation of a new drainage pipe.
The road was approximately 8 meters (26 feet) wide, and was bounded on both sides by curbstones. It was built of large flat stones, and had been repaired over the years.
"Several segments of the road were previously excavated by research expeditions of the IAA, but such a finely preserved section of the road has not been discovered in the city of Jerusalem until now," excavation director David Yeger said.
"The Romans attached great importance to the roads in the empire," he continued.  "They invested large sums of money and utilized the most advanced technological aids of the period in order to crisscross the empire with roads. These served the government, military, economy and public by providing an efficient and safe means of passage.
"Way stations and roadside inns were built along the roads, as well fortresses in order to protect the travelers. The construction and maintenance of the roads was assigned to military units, but civilians also participated in the work as part of the compulsory labor imposed on them by the authorities."
The ancient road may have been used as recently as the 20th century, he noted. The modern Bir Nabala road was paved just a few centimeters over the ancient route, "which indicates that until a few decades ago the ancient road in this region was visible and was used."