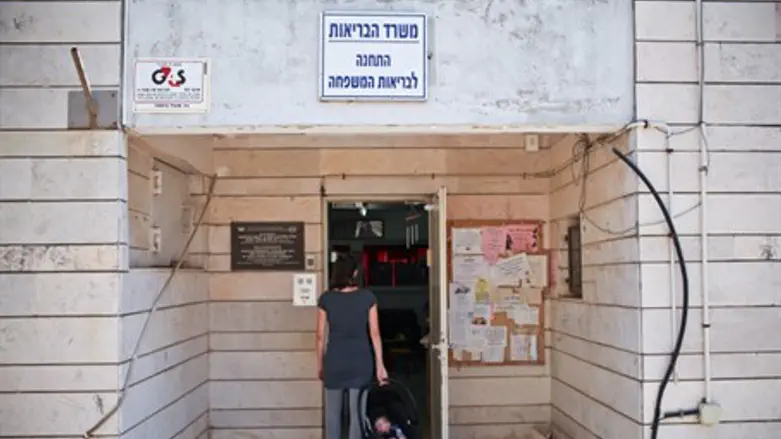 Entrance to Tipat Chalav clinic (illustrative
Israel news photo: Flash 90
The ongoing polio scare has revealed serious failings in the health services provided to hareidi-religious families, MK Yisrael Eichler of the hareidi-religious Yahadut Hatorah (Gimmel) party charged Tuesday.
Eichler warned that the Tipat Chalav clinics that provide vaccinations and monitor young children's health have failed to keep up with the high hareidi birthrate.
In a letter to Health Minister Yael German, he wrote, "I remind you that in Beitar Illit there are around 1,800 births every year, and may there be more. There are 6,000 toddlers."
"According to complaints I have received, there are only two 'mother and child' clinics operated by the Health Ministry in Beitar, and another two clinics operated by the kupat cholim," he wrote.
"Even these clinics are not computerized like they are in other cities. They use folders with the files for each family, like in a third-world country," he charged.
The recent discovery of the polio virus in southern and central Israel has led many parents to seek immunizations for their children. In Beitar Illit, he said, "Mothers wait for long hours to get the vaccine." Because the system is not computerized, "each file has to be searched for manually, and the lines just get longer. The nurses are collapsing under the strain," he warned.
Eichler called on German to see if more nurses could be sent to Beitar Illit until the polio scare is over, and in addition, to look into whether there exist criteria regarding the number of health clinics that should exist in relation to the population in a given area.
He also asked that she look into the question of whether the clinics in Beitar Illit and other majority-hareidi cities lag behind those elsewhere in the country when it comes to computerization.
German expressed support for Eichler's concerns, and said she would look into the matter immediately.