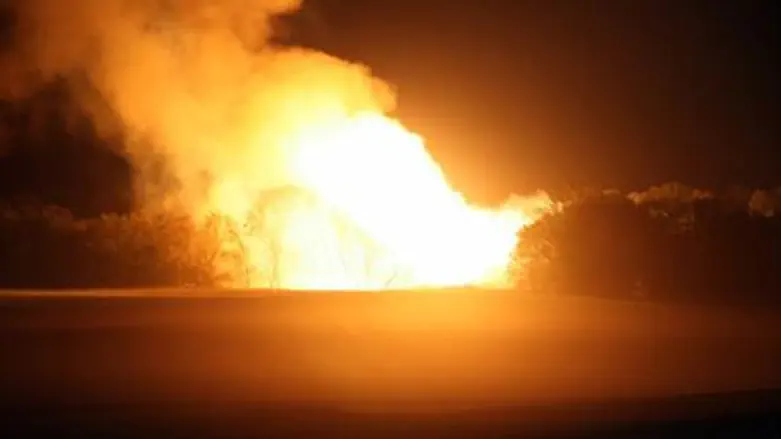 Gas pipeline explosion (illustrative)
Israel news photo: Flash 90
Sabotage of the natural gas pipeline in the Sinai Peninsula and Egypt's willingness to buckle to terrorism cost the State of Israel $187 million (NIS 677 million) in 2012, a new report shows.
The Finance Ministry's accountant general, Michal Abadi-Boiangiu, pointed out that the cutoff of Egyptian natural gas sales to Israel following repeated sabotage of the pipeline forced Israel to use more costly diesel fuel.
As a result, the Israel Electric Company's debts reached $ 19 billion (NIS 70 billion) by the end of the year 2012.  The expense was recorded as a loss in investments.

Ironically, Egypt itself now faces its own shortage, according to a report posted earlier this month in the Qatar-based The Peninsula. Cairo announced it would cut exports and has ordered major industries to slow production this summer in an attempt to minimize the shortage, which came as the result of local thieves siphoning off nearly a fifth of the country's subsidized fuel.
"Qatar will supply five cargos of liquefied natural gas as a gift to the Egyptian people during the summer months, with the first of these shipments beginning at the end of July (and continuing) until mid-September," Qatar's Energy and Industry Minister Mohammed al-Sada said in a statement to media, but did not indicate the size of the shipments.
The Egyptian economy has not rebounded following the "January 25 Revolution" that ended the government of former President Hosni Mubarak, despite the shining promises of those who led the Arab Spring-inspired uprising that began in Tahrir Square.    
Egypt's burgeoning population of more than 80 million – with 90 percent Muslims – is still suffering from high rates of unemployment, poverty and desperate hunger in numerous areas around the country.