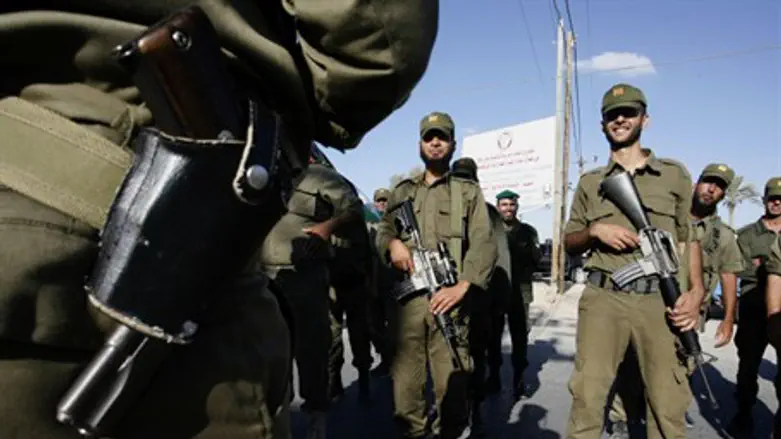 Hamas terrorists in Gaza
Flash 90
Ousting Syrian President Bashar Al-Assad is more important than "liberating Palestine", a senior member of the Hamas terror group has said, according to Arab affairs expert Dalit Halevi.
Abdel Aziz Dweik, the speaker of the Palestinian Authority's parliament, told an Algerian newspaper in an interview that the very existence of the Assad regime is a knife in the heart of the Palestinian problem. Removing Assad, he claimed, will start the road to victory for Palestinian Authority Arabs.
In the first months of the Syrian uprising, Hamas's leaders expressed support in principle for the struggle of the Syrian people while also highlighting the importance of the movement's historical relationship with the Syrian regime.
However, as the rift deepened, there was shift in the terror group's stance as it began supporting the rebels over Assad. Reports then surfaced that Hamas was moving its headquarters from Damascus and strengthening itself in the Sinai and in Qatar.
Some reports claimed that the Damascus-based Hamas leadership left Syria after the Syrian government asked the Hamas leaders to leave. In November, Syrian security forces shut down all the offices belonging to Hamas in the country.
Some reports indicated that Hamas was even training the rebel Free Syrian Army in eastern Damascus, but the terror group vehemently denied any link to the rebels.
Meanwhile, according to Halevi, the Saudi-based newspaper Al-Sharq is reporting that there is a dispute among the leaders of Hamas regarding the group's attitude towards civil war in Syria.
One camp includes those who see Qatar as a strategic ally that can pave the way for Hamas to be recognized as legitimate by the international arena, noted Halevi, while the other camp includes those who argue that Iran, Syria and the terror group Hizbullah are important allies in the struggle against Israel.
Hamas is reportedly paying a heavy price in lost aid over its assistance to the rebels fighting Assad.
Recent reports indicated that Iran has made a meaningful cut in its aid to Hamas, which had previously reached amounts as large as 15 million Australian dollars per month.