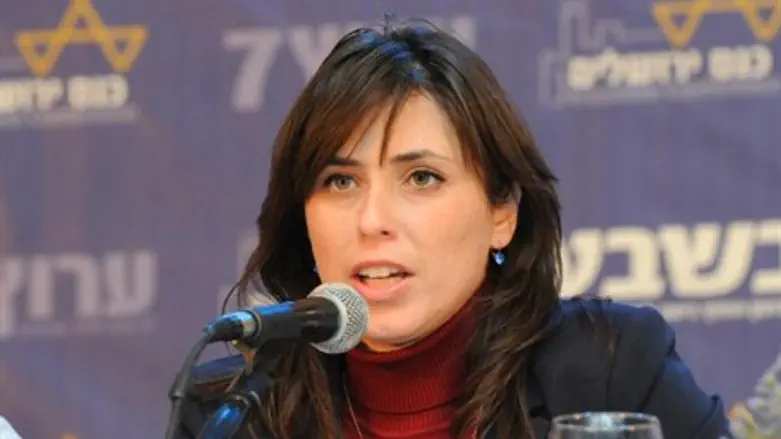 Deputy Transportation Minister Tzipi Hotovely
Nissim Lev
Deputy Transportation Minister MK Tzipi Hotovely (Likud) said on Sunday that it was time that the Israeli government take steps to annex Judea and Samaria, even if it comes with the price of giving citizenship to Arabs residing in these areas. Estimates of the number of Arabs in the area vary from 1.5 to 2.4 million.
Speaking to Arutz Sheva, Hotovely said that offering citizenship to Palestinian Authority Arabs would be a small price pay for ending the status quo which brings international criticism of Israel, viewed as an "occupier" in Judea and Samaria.
"Some think that the way to go is to divide the country. We do not belong to this group," she said. "Therefore we need to understand that every decision has a price, and therefore if we do not adopt the annexation plan, we will pay the price through pressure and boycotts of Israel and Judea and Samaria."
Hotovely noted that the reality in which the Israeli right does not provide a clear answer regarding the question of the future of Judea and Samaria causes more people to fall for the idea of a two-state solution. "When we clearly declare that  these areas are not up for negotiation and that we are going to apply sovereignty over them, we can come before the public and say in a clear and loud voice that these lands are ours and we are prepared to pay a demographic price for this," she said.
According to Hotovely, Israel should begin by annexing Area C, which is under full Israeli control, and thus present a statement to the world that Israel is moving towards full Israeli sovereignty over Judea and Samaria.
"Israel should say it is headed towards applying sovereignty. It makes no sense to leave this in the air for 45 years," she said. "Leaving it up in the air sends a message that we have no connection to these places."
The difference between her plan and Economy Minister Naftali Bennett's plan, explained Hotovely, is that Bennett only says that sovereignty should be applied in Area C where only 4% of PA Arabs live - and all of the Jews - and gives Areas A and B to the Arabs. This, she said, perpetuates the Oslo Accords.
As for possible condemnations by the international community if Israel carries out such a move, Hotovely said, "The world will accept anything that sounds like a solution. Currently it wastes all its money and resources on a failed solution, because there is no Palestinian willingness to give up Jerusalem or the 'right of return'. The world tried to promote peace with a specific formula, and if we begin to repeat the truth that Judea and Samaria are not bargaining chips for negotiations and an alternative solution begins to emerge, the world will be convinced."